ACT Middle East Annual Dinner 2017
20 November 2017
H Hotel, Dubai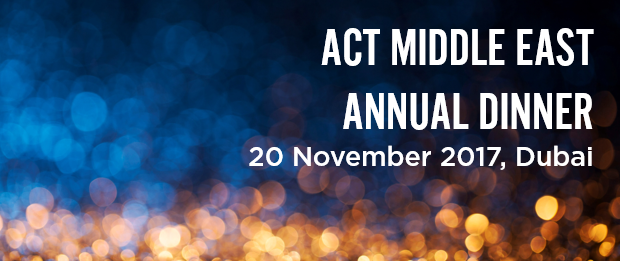 The ACT Middle East (ACTME) is delighted to announce that the 2017 Annual Dinner will be taking place at the H Hotel, Dubai on 20 November 2017.
The dinner is the premier networking event in the corporate finance calendar for the region and provides you with the perfect opportunity to network with your peers whilst enjoying a wonderful three course meal and fine wines.
The presentation of the ACT Middle East Treasury Awards will follow dinner – the awards celebrate the achievements of the corporate treasurer and will recognise companies and individuals that have shown innovation and excellence in corporate treasury from across the GCC.
After dinner speaker: Idriss Al Rifai
Idriss Al Rifai is an entrepreneur passionate about disrupting the Middle East retail market with technologies and customer-centric services that enable the growth of e-commerce in the region. Idriss has developed and optimised a last mile delivery solution specifically for the e-commerce needs and requirements in the Middle East.
In 2012, Idriss founded Fetchr which has evolved to become a full end-to-end logistic solution, backed by technology, for e-commerce companies, regional players, social media sellers as well as SMBs in the MENA region. In addition to its B2C and standard C2C deliveries powered through its app, Fetchr also recently launched an on-demand delivery service, the first of its kind in the region.
Read Idriss Al Rifai's full biography >
Fetchr is also the first company in MENA to raise $52M in funding to date ($11M Series A and $41M Series B), led by a top tier Silicon Valley VC, New Enterprise Associates. This opened up the doors for other startups and entrepreneurs to receive funding form outside the region. Idriss's goal is to empower all deliveries through technology in emerging markets.
Previously Idriss worked for MarkaVIP, a leading ecommerce player in the MENA region, where he headed the operations and built an in-house logistics department for the company to expedite deliveries. Prior to this he worked as a consultant at Boston Consulting Group (BCG).
Idriss holds degrees from the Institut d'Etudes Politiques of Paris (Sciences Po) and the University of Chicago's Booth School of Business. He is also a Rath and Fulbright scholar and Endeavor entrepreneur.
Book your table here.
If you have any booking questions, please email the ACT events team at actme@treasurers.org or call +44 (0)20 7847 2589.
Gold sponsor

Reception sponsor