ACT Middle East Treasury Awards 2012

It is in recognition of the exceptional efforts undertaken by treasurers throughout the Gulf Cooperation Council region that the ACT started its Middle East Deals of the Year Awards, now in their fourth year.
When they review the entries, the judges look for 'excellence in treasury', which might mean an exceptionally well-priced or innovatively structured bond issuance, or a team that boasts outstanding technical and communication skills.
This year's winners and runners-up have been rightly recognised for their outstanding treasury expertise in an uncertain financial and political climate. And they are some of the brightest stars in a profession that continues to enhance its reputation in the Middle East
Awards categories and Winners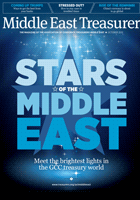 How the awards were judged
This is the fourth year of the ACT Middle East Deals of the Year Awards and there were five award categories in 2012:
Treasury funding deal (all methods of capital raising and funding); Cash and trade finance deal (cash management, trade finance, supply chain finance, etc); Corporate financial management (M&A, risk management activities, treasury organisation); Team of the year, large enterprise; and Team of the year, smallto-medium enterprise.
The deals and corporate financial management categories were judged according to the criteria of 'excellence in treasury':
sound treasury management; efficient pricing; optimal or innovative structure; and relative success in prevailing market conditions.
The teams of the year were judged on: sound treasury management; strong technical knowledge and ability; innovation in technology and systems; and ability to build strong relationships with the company's bankers and advisers.
Note: In the event a conflict of interest arose during the judging process, the relevant judge withdrew from the process and decision-making.