ACT qualifications and training in the Middle East
The ACT offers a wide range of treasury learning solutions to organisations and individuals in locations right across the GCC that include:
Local advice and guidance to help you choose from the full range of ACT qualifications and training courses
Access to a range of ACT qualifications in treasury - Including the Certificate in Treasury Fundamentals (CertTF), the Certificate in Treasury (CertT), the Diploma in Treasury Management (AMCT) and the Award in Cash Management Fundamentals (AwardCMF)
Face-to-face training courses available across the region and led by English and Arabic expert trainers and tutors that improve practical skills and tuition revision programmes to support you through qualifications
Development programmes specially designed for banks, FIs and treasury service suppliers that build understanding in treasury and develop insight into the customer
To find out more or book a consultation visit to discuss learning needs for your organisation, please contact customer@treasurers.org
Available learning
Qualifications
The ACT's range of accredited treasury qualifications that help build competence and support organisational and individual development. For more information about the qualifications pathway click here >
Face-to-face tailored courses
ACT skills-based training courses are available in a wide range of subjects and can be delivered as in-company programmes at a time, duration and place of your choosing. In-company courses can be delivered off the shelf or customised to your needs. For more information about the range of available topics click here >
Bespoke programmes
We can also deliver company specific programmes designed in consultation with you and the ACT's expert tutors, trainers and programme team and delivered again, at a time, duration and place to suit the needs of your team. Managed programmes can include online skills diagnostics as well as the full range of ACT's treasury learning solutions.
eLearning
The ACT's suite of eLearning, First Steps in Treasury are seven short courses that have been designed to create an awareness of the role of treasury and of the treasurer within the context of business, as well as specific treasury topics. The modules are ideal for introducing team members to treasury, as the modules build from the initial concepts of treasury into increasingly complex aspects of the role. A free eLearning demo is available here >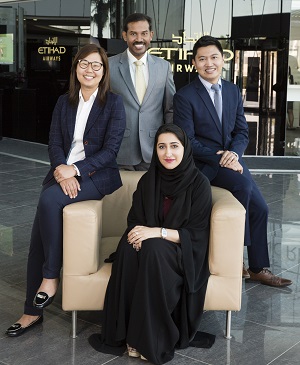 Etihad Case Study
Etihad has supported its treasury department through their first year studying for ACT treasury qualifications.