Speakers
PREVIOUS KEYNOTE SPEAKERS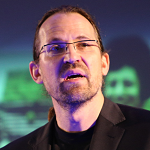 Dave Coplin is the former Chief Envisioning Officer for Microsoft UK charged with helping the company and its clients devise a strategy to deal with the huge shifts technology and its applications might bring. He 're-imagines' business, the workplace, and the everyday world and is a thought-leader in how technology will affect our professional and personal lives.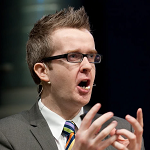 David Meade has become a sought-after speaker with a reputation for forcing audiences to think critically about the challenges around them. He is a researcher and lecturer whose personal interests have always focused on aspects of psychology, consumer behaviour and choice, combining these with his love of the performance of mentalism.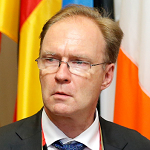 Sir Ivan Rogers, the former UK Permanent Representative to the EU. As effectively Britain's ambassador to Europe, he is one of the best-informed voices on UK/EU relations both before and after the EU referendum and has a unique perspective on Britain's future negotiations.
PAST SPEAKERS
Joanne Bates, International Treasurer, Worldpay
Timothy Bartlett, Senior Commercialisation Manager, Global Liquidity & Cash Management, HSBC
Massimo Battistella, Manager Account Receivables, Telecom Italia
Margaret Bingham, Head of Cash and Banking, Premier Foods
Sarah Boyce, Associate Policy & Technical Director, ACT
Helen Boyd, Manager, Trading Conduct & Settlement Policy Team, FCA
Adam Boyle, Treasury Manager, easyJet
Joseph Braunhofer, Deputy Group Treasurer, Smith & Nephew
Jesper Broskov, Group Treasurer, The Lego Group
Mario Bruni, EMEA Treasurer and Head of Treasury Operations, CNH Industrial
Rasmus Camborda Meilvang, Treasury Manager, Thomas Cook
Steve Card, Group Treasurer, Dechra Pharmaceuticals
Ian Chisholm, President, ACT and Vice President – Corporate Finance, BHP
Clare Cole, Head of Department, Primary Market Oversight, FCA
Duncan Cole, Director, Head, EMEA Treasury Advisory, Citi
Llewellyn Collymore, International Treasury Risk Manager, Huawei
Dave Coplin, former Chief Envisioning Officer, Microsoft UK
Fiona Crisp, Director of International Treasury Risk, Huawei
Nadine Dereza, Business Presenter
Dympna Donnelly, Treasury Director, SAP
Michelle Dovey, Director, mjd consulting
Ines Faden da Silva, acting Treasurer, Tideway
John Finn, Managing Director, Treasury Solutions
Alexander Fleischmann, Head of Market Development – International, TIPCO
Sir Roger Gifford, Chairman, Green Finance Initiative
Tom Gilliam, Corporate Finance Director, GSK
Enric Girones, Associate Director, Financial Risk Advisory, Lloyds Bank
Alex Griffiths, Managing Director, Head of Natural Resources and Commodities EMEA, Fitch Ratings
Nick Haslehurst, CFO, moneycorp
Frances Hinden, VP Treasury Operations, Shell
Martin Hoad, Deputy Treasurer, Centrica
Frances Hutchinson, Critical Guidance & Policy Manager, Market Oversight Division, FCA
Sarah John, Head of Sterling Markets Division, Bank of England
Erik Johnson, Director - CitiFX Risk Management Solutions, Citi
Chris King, Group Treasurer, Drax
Elie Lasker, Senior Market Manager, Payments Market Infrastructures, SWIFT
Qiang Liao, Senior Director Financial Institutions, S&P
Austin Matthews, Assistant Treasurer, Sky
Peter Matza, Speakers' Chair, ACT
Ned McLean, Director, Commodity Sales, Lloyds Bank
David Meade, Mentalist
Charlotte Morgan, Non-Executive Director, FCE Bank (Ford Credit)
Annemarie Moore, Group Treasurer, Plan International
Sue Moore, Director Tax & Treasury, Cambridge University Press
Katherine O'Brien, VP Treasury, Dubai Aerospace Enterprise
Rob O'Malley, Head of Treasury, Cadent Gas
Kevin Pinnegar, European Group Treasurer, Honda
Suzanne Perry, Assistant Group Treasurer, RELX
Octavia Peters, Group Treasurer, SEGRO
Catherine Porter, EMEA Treasury Director, CBRE
Michelle Price, Associate Policy & Technical Director, ACT
Karen Pugsley, Group Treasurer, Domino's Pizza
Damian Richardson, Head of Payments Strategy and Innovation, Payments, Services, RBS
Adam Richford, Group Treasurer, Renewi
Sir Ivan Rogers, former UK Permanent Representative to the EU
John Sacco, Head of Payments, Cash management, Liquidity & Bilateral Lending, Santander
Paolo Sala, International Director of Group Treasury, The Body Shop
Svenja Schumacher, Manager – Risk Management Advisory, Chatham Financial
Jean-Marc Servat, Chairman, European Association of Corporate Treasurers
Carl Sharman, Director, Deloitte
Yogesh Sholapurkar, API & Open Banking Commercialisation, Lloyds Bank
Matt Sielecki, Director Digital Product Development, Deutsche Bank
Gillian Stewart, Group Treasurer, SAGA
Caroline Stockmann, Chief Executive, ACT
Graham Taylor, Assistant Treasurer, Vodafone
Chris Ulliott, Chief Information Security Officer, NatWest
Matthew Wagstaff, Global Product Manager - Virtual Accounts, HSBC
Carl Walsh, Head of Finance, Matalan
Jon Williams, Principal Consultant, Mk2 Consulting
Mike Wilkins, MD, Head of Sustainable Finance, S&P
Beatrijs Woltring, VP, Treasury, Liberty Global
Jim Reid, MD, Global Head of the Fundamental Credit Strategy Group & Research Strategist, Deutsche Bank
David Coulson, Business Development Manager, ACT
Carl Sharman, Director, Deloitte
Andrew Wood, Partner, H³