ACT Annual Conference 2019
21 May - 22 May 2019
The most powerful treasury and finance conference returns to Manchester Central on 21-22 May 2019!
Join over 1,100 of your peers, over 100 speakers and 80+ exhibitors at the UK's largest conference designed specifically for treasury and finance professionals.
If you'd like to be notified when we're open for bookings, email events@treasurers.org and look our for more details coming soon!
Click below to take a look at the 2018 conference photos from Liverpool!
Who attends this conference?
1,000+ senior treasury and finance professionals, representing 300+ companies, from 15+ countries, including:
group treasurers of leading UK and international corporates
CFOs and other senior corporate finance professionals
global financial and treasury service providers
future treasury leaders
Why attend?
Understand the impact of global affairs on your business
Expand your technical toolbox and areas of expertise
Share lessons learned from leading treasury teams
Enhance your professional network
Find solutions at the largest UK exhibition for treasury services
Download the 2018 conference programme for an idea of what to expect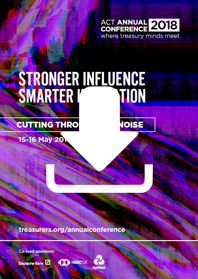 Previous keynote speakers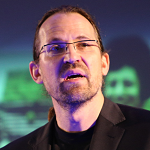 Dave Coplin is the former Chief Envisioning Officer for Microsoft UK charged with helping the company and its clients devise a strategy to deal with the huge shifts technology and its applications might bring. He 're-imagines' business, the workplace, and the everyday world and is a thought-leader in how technology will affect our professional and personal lives.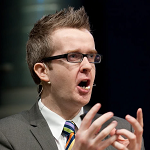 David Meade has become a sought-after speaker with a reputation for forcing audiences to think critically about the challenges around them. He is a researcher and lecturer whose personal interests have always focused on aspects of psychology, consumer behaviour and choice, combining these with his love of the performance of mentalism.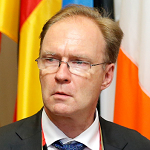 Sir Ivan Rogers, the former UK Permanent Representative to the EU. As effectively Britain's ambassador to Europe, he is one of the best-informed voices on UK/EU relations both before and after the EU referendum and has a unique perspective on Britain's future negotiations.
Don't just take our word for it!
"I'd encourage all treasury professionals who haven't ever attended the conference to attend it as and when they can. One of the big reasons is that they get to interact with treasury professionals and discuss ideas, hopefully take some lessons back to their own firms and it's a very professionally managed conference. It's a fantastic platform for somebody to engage with suppliers in treasury beside just treasury professionals and hopefully take some of the tools and techniques away as well."
Himanshu Kher, Group Treasurer, IG Group
Venue for the 2019 conference
Manchester Central
Windmill St
Manchester
M2 3GX
UK