Asia Treasury Leaders' Forum 2018
08:00 - 18:00 19 September 2018
Hong Kong Convention & Exhibition Centre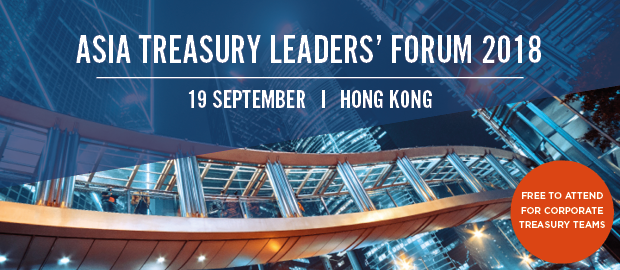 It is only when smarter technology and human know-how come together, that treasury can keep up with the diversified and unpredictable challenges of today.
For a fresh perspective on long-standing challenges, join us for the Asia Treasury Leaders' Forum on 19 September in Hong Kong.
Widely recognised for the quality of its content and networking, the ACT's flagship conference for Asia provides comprehensive coverage of the latest trends and developments in corporate treasury. As the only forum in the region run by a professional treasury body under Royal Charter, the event has grown from a small gathering of treasurers in 2008 to a flagship conference attracting more than 300 registered delegates last year – and this year marks our 10-year anniversary in the region.


***Please note that only registrations using employer registered email addresses are accepted
Topics on this year's agenda include:
Charting a course for treasury innovation in Asia Pacific
Spotlight on regional treasury functions
Payments innovation
Future-proofing your cash management
Green and sustainable finance
Navigating regulatory changes
Expert roundtable: asset management and investing
Strategic corporate funding - debt capital markets for Asian issuers
Corporate case studies on cash management, FX risk management, working capital management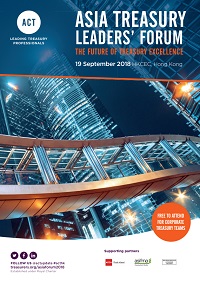 What do past attendees say?

"Thanks ACT for organizing the Asia Treasury Leaders' Forum, which provided a wonderful opportunity to meet with finance leaders from different industries and to exchange opinions with them on current issues and topics of common interests."
Raymond Chiu, Assa Abloy Hong Kong
"Excellent speakers with tons of inspirations and insights during the forum, really worth attending!"
Kam Shue Fung, Reanda Lau & Au Yeung (HK) CPA
"An event not to be missed. Great insights and updates on the on goings within the industry and regionally."
Nadia Zainurin, Asia Leap
Speakers
Speakers at this year's forum include:
Anthony Ford, Head of Treasury, CLSA
Bonnie Chan, Panda Bond Specialist, Fixed Income Department, Shenzhen Stock Exchange
Caroline Stockmann, Chief Executive, ACT
Celia Liu, Regional CFO, G4S Asia
Charley Cai, Group Treasurer, Mason Group
Daniel Wong, Head of Mergers & Acquisitions (Asia Pacific), British American Tobacco
David Chung, Senior Manager - Corporate Treasury Solutions, PwC
Finbarr Bermingham, Asia Editor, Global Trade Review ADD
Florian Spiegl, COO, FinFabrik and AI Committee Chair, HK Fintech Association
Francis Ho, Senior Director - Group Treasury & Project Finance, CLP
Ginny Wu, Financial Controller, Dah Chong Hong Holdings
Jacob Chee, Head of Sales North Asia, 360T
Jolyon Ellwood-Russell, Partner, Financial Markets, Simmons & Simmons
Joy Yang, Chief Asia Economist, Point72
Keith Yuen, Senior Advisor, Pacific Gate Capital Management
Lionel Choong, Acting CFO, Weyland Technology
Michelle Price, Associate Director, Policy & Technical, ACT
Mark Pryor, Partner, Brewer Morris
Mike Puah, Group Treasurer, Vistra
Nicolas Adjemian, Director, Solutions Consulting – APAC, ION Group
Niko Ratala, Regional Financial Controller, APAC & Middle East, Rolls-Royce
Peter Klein, Head of Cash Management Technology, Finlync
Peter Matza, Speakers' Chair, ACT
Raghu Narain, Head of Investment Banking, Asia Pacific, Natixis
Stan Ho, Director, Asia Pacific Structured Finance Association (APSA)
Veronique Lafon-Vinais, Associate Professor of Business, Education, Department of Finance, HKUST
Warut Promboon, Managing Partner, Bond Critic
br>
Are you interested in speaking? Contact Sulamith about speaking opportunities at the forum:
Sulamith Waldmeier
Live & Digital Content Producer – Global Events
T: 44 (0)20 7847 2583
E: swaldmeier@treasurers.org
Sponsorship and exhibition opportunities
To find out more about sponsorship or exhibition opportunities at this conference, please contact:
Jennifer Poolman
Sponsor Relationship Manager
T: 44 (0)20 7847 2545
E: jpoolman@treasurers.org
Venue
Hong Kong Convention & Exhibition Centre (HKCEC)
1 Expo Drive
Wan Chai
Hong Kong
A snapshot of the Asia Treasury Leaders' Forum 2017
2017 Event overview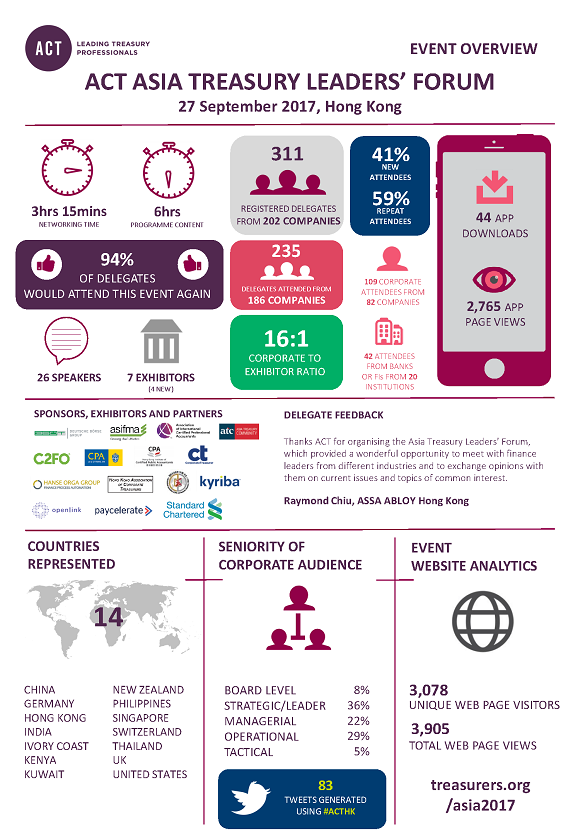 Past speakers
In recent years, treasury and finance experts from a broad range of institutions have shared their expertise and insights at the Asia Treasury Leaders' Forum, including:
Alan Drew, Director, International Treasury, Tesco
Alicia Garcia-Herrero, Chief Economist – Asia Pacific, Natixis
Bernard Wee, Executive Director & Head – Financial Markets Development Department, MAS
Brendan McGraw, CFO, CLSA
Carmen Chu, Executive Director (Banking Conduct), HKMA
Craig Beattie, Group Treasurer, Jardine Matheson
Denis Ecknauer, Regional Treasurer, North & South Asia, ABB
Enoch Fung, Head of Market Development, HKMA
George Wong, Group Treasurer, HKEX
Ginny Wu, CFO, Asia Pacific, Delmar Group
Gogo Ko, President, IACCT
Hobson Chan, Treasurer, CNOOC & Shell
Howard Lee, Executive Director, Monetary Management Department, HKMA
James Lee, Regional Director, Greater China, ICAEW
Jeff Kwan, Treasurer, MTR Corporation
Jiameng Teah, Assistant Treasurer, Vodafone Group Services
Joseph Chang, Director – Group, Treasury, AIA
Kenneth Ng, Group Treasurer, DFS Group
Kristen Tiner, Head of Risk, Asia Pacific, Thomson Reuters
Mark Austen, Chief Executive Officer, ASIFM
Nicholas Soon, Regional Treasury Manager, British American Tobacco
Rajan Gupta, Group Treasurer, Hyva Group
Raj Rai, MD, Treasury Centre & Regional Treasurer, Asia Pacific, IKEA
Ricco Zhang, Director – Asia Pacific, International Capital Market Association (ICMA)
Scott Engle, Group Treasurer, AIA
Tom Bindloss, Regional Treasurer, Asia Pacific, SABMiller
Tony Lam, Group Treasurer, TCC Group
Veronique Lafon-Vinais, Associate Director, Centre for Asian Financial Markets
Vincent Chow, Group Treasurer, The Hong Kong Electric Company
Vincent Lee, Executive Director, External Department, HKMA
Wildrik De Blank, Group Treasurer, Noble Group
WK Lo, Head of Corporate Investment & Investor Relations, The Hong Kong and China Gas Company
Zengye Wang, Director, CNPC Financial Research Institute
Past sponsors and exhibitors