ACT Deals of the Year Awards Dinner
07 February 2019
The ACT Deals of the Year Awards Dinner will be taking place on 7 February 2019 at the Banking Hall in London and marks 22 years of celebrating the outstanding achievements of corporate treasurers and their teams who have shown innovation and excellence across the treasury spectrum. These highly respected awards, judged by our panel of senior treasury practitioners, recognise those individuals and organisations that have shown innovation and excellence in corporate treasury over the last 12 months.
This is an invitation-only event – to request your invitation, please email events@treasurers.org.

Take a virtual tour of the Banking Hall
This year's keynote speaker is Stephen Jones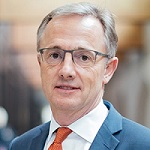 Stephen Jones is the first CEO of UK Finance, the trade association for the finance and banking industry based in the UK. UK Finance provides a single voice and resource for 300 member organisations across banking, capital markets, payments, cards and mortgages.
After a law degree from Queens' College, Cambridge, Stephen qualified as a solicitor at Baker & Mckenzie and then spent 15 years at Schroders (later Schroder Salomon Smith Barney) where he took on a number of corporate client advisory roles.


Read Stephen Jones' full bio
In 2002, he moved to Barclays Capital where he was head of capital markets origination and co-head of corporate investment banking in EMEA before moving to head investor relations at Barclays PLC in 2009.
He joined Santander UK in 2011 and was appointed a member of the Board and Chief Financial Officer in 2012. Stephen also served as a member of the Advisory Council of TheCityUK, the Practitioners' Panel of the Financial Conduct Authority and the Board of the BBA, one of the 6 trade associations that was merged in to create UK Finance in 2017, until leaving Santander UK at the end of 2015.
Stephen joined Cerberus, the US private equity firm, as a Senior Advisor in 2016 before leaving to take on his present role at UK Finance.
He is also a member of the Boards of TheCityUK and the European Banking Federation.
Awards categories
The Awards celebrate the achievements of the corporate treasurer and recognise companies and individuals that have shown innovation and excellence in corporate treasury. All types of deals are considered and judged on the basis of meeting the consistent criteria, rather than on the size of the deal. The panel of judges will select a winner from the list of nominations for each of the categories below, plus an overall winner from the deals categories.
Bonds Above £750m
Bonds Below £750m
Loans Above £750m
Loans Below £750m
Corporate Finance
Sustainable Finance
Small UK Treasury Team of the Year (market cap below £4bn)
Large UK Treasury Team of the Year (market cap above £4bn)
Large EMEA Treasury Team of the Year (market cap above £4bn) - sponsored by SMBC
Short-listed organisations
Bonds Above £750m
DP World
GlaxoSmithKline
Vodafone
Bonds Below £750m
Royal Schiphol
Tesco
University of Oxford
Loans Above £750m
E.ON
Informa
Melrose
Phoenix
Loans Below £750m
CareTech
DP World
John Laing Group
Corporate Finance
Bayer
E.ON
Greene King
Phoenix
Sustainable Finance
Metroline
Renewi
Thames Tideway
Small UK Treasury Team of the Year (market cap below £4bn)
Page Group
Renewi
St Modwen
Large UK Treasury Team of the Year (market cap above £4bn)
Rolls-Royce
Tesco
Vodafone
Large EMEA Treasury Team of the Year (market cap above £4bn) - sponsored by SMBC
Bayer
DP World
Willis Towers Watson
Important dates
Nominations open: 24 September 2018
Deadline for submissions: 23 November 2018
Awards ceremony and dinner: 7 February 2019
Venue
Banking Hall
14 Cornhill,
London
EC3V 3ND