ACT Europe Conference
08:30 - 17:30 29 March 2017
Hilton Düsseldorf Hotel, Germany,

ACT Europe Conference | 29 March 2017, Hilton Düsseldorf, Germany
FREE FOR NON-FINANCIAL CORPORATES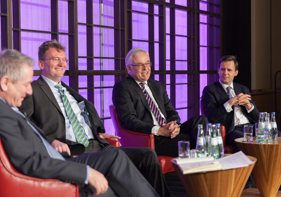 Now in its fourth year, it has become the ideal setting for treasury and finance professionals from across Europe to share insight, experience and key challenges for the region in the year ahead.
Our thought-provoking and interactive programme provides a mixture of case studies, working groups and panel discussions to stimulate collaborative, strategic debates, helping you lead your organisation through change.
Follow all the Twitter action using #acteurope
Benefits of attending
Who is the conference for?
Anyone whose role involves treasury, corporate finance, cash and liquidity management or risk
How will you benefit?
In just one day you will:
hear the latest market updates and get the edge over your competition
identify key trends and act as an early warning indicator for your boss and your company
sharpen your technical treasury skills and increase your team's efficiency
learn how to effectively communicate the benefits of your role to the wider business
make new connections and be an active part of the global ACT treasury community
Key stats from 2016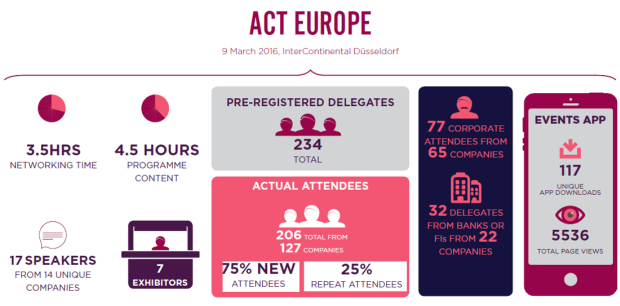 Sponsorship, exhibition and speaking opportunities
Interested in sponsoring or exhibiting?
Contact Denis Murphy on dmurphy@treasurers.org or +44 20 7847 2581
Are you a corporate treasurer with a success story to share?
Contact Sulamith Waldmeier on swaldmeier@treasurers.org or +44 20 7847 2583 to find out about our speaking opportunities.
Read what our delegates say
"The conference was a nice opportunity to get to know my peers, exchange experiences with them and listen to good speeches from a diverse scale from one-to-one fireplace talks with vital
recommendations to treasurers to the group discussions of CFOs from big enterprises. One additional aspect for me was that after the event I was able to determine my areas of development and how to
steer my career forward."
Eray Cakir, Finance, DB Schenker
"The ACT Europe Conference was very useful for me as treasury experiences were shared by professionals. Furthermore, presentations of (treasury) market developments and discussions highly contributed to my treasury insights and knowledge."
Wim Welters, Senior Advisor, Montesquieu
"It was a great pleasure for me to take part first time in such a wonderful event with such a great atmosphere where I could have had the opportunity to meet corporate treasurers from all over Europe"
Jakub Przybylski, FX, IR Risk Management, Treasury, Grupa Lotos
"I found the conference very useful from both contemporary and very relevant topics being discussed and a nice mix of corporate treasury professionals and financial services providers to meet. As a marketing professional for financial services to treasurers, this venue has given me a chance to efficiently pitch our services to a host of corporate treasurers within a compressed timeframe."
Daniel Stádník, CFA, Senior Managing Director, Independent Representative, Finacity Corporation
SPONSORED BY

Location