FareShare
8.4 million people in the UK regularly skip a meal as they can't afford to put food on the table. At the same time, 270,000 tonnes of perfectly edible food is needlessly wasted every year by the food and drink industry.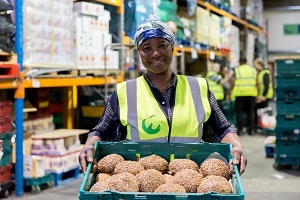 FareShare saves good food destined for waste and redistributes it to charities and community groups who transform it into nutritious meals for vulnerable people. The surplus food FareShare redistributes is fresh, of a high quality and in date. The charities they work with can be found across the UK.
Last year they redistributed enough food for 28.6 million meals. However, it's more than simply meals. The organisations they supply food to – from breakfast clubs for disadvantaged children, to homeless hostels, community cafes and domestic violence refuges – are places that provide life changing support, as well as lunch and dinner.
By making sure good food is not wasted, FareShare turns an environmental problem into a social solution. They save food and change lives.