FareShare
What does FareShare do?

8.4 million people in the UK regularly skip a meal as they can't afford to put food on the table. At the same time, 270,000 tonnes of edible food is needlessly wasted every year by the food and drink industry.
FareShare saves good food destined for waste and redistributes it to charities and community groups across the UK who transform it into nutritious meals for vulnerable people. The surplus food is fresh, of a high quality and in date.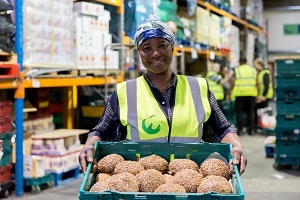 Last year they redistributed enough food for 28.6 million meals. However, it's more than simply meals. The organisations they supply food to – from breakfast clubs for disadvantaged children, to homeless hostels, community cafes and domestic violence refuges – are places that provide life changing support, as well as lunch and dinner.
By making sure good food is not wasted, FareShare turns an environmental problem into a social solution. They save food and change lives.
How can you help?
FareShare has two types of volunteering options for groups.
Food Hero Challenge
A full day for teams of 4-6 people from 08.45-17.00.
Volunteers help on the front line of FareShare's operation – loading vans, accompanying drivers to help deliver food to charity partners, sorting deliveries of food, and picking orders for the following day. The Food Hero Challenge takes place Monday-Friday all year round.
Super Sorting
An afternoon session for teams of 6-12 people from 12.30-4.30pm
Volunteers help in the FareShare warehouse sorting and categorising surplus food that has been delivered, and help assemble charity deliveries for the following day. These take place Tuesday-Thursday but availability is limited.
These can take place at a number of our warehouses across the UK, with a particular need for volunteers in London, Birmingham, Liverpool, Ipswich, Southampton, Manchester and Aberdeen. For these particular centres, volunteer days are highly beneficial as extra pairs of hands really help them increase productivity.
Should you and a team wish to volunteer, please contact Katie Greaves, Corporate Development Officer, FareShare at katie.greaves@fareshare.org.uk or 020 7394 2469.
If you, as an individual, would like to volunteer please contact your local centre. Contact details can be found here