Certificate in International Cash Management
Key facts
How you study
Distance learning and 5 day compulsory tuition school
Structure
7 study units; tuition school
The Certificate in International Cash Management (CertICM) provides cash managers with the skills necessary to implement cash management solutions at local and global levels to release cash for use by the organisation.
It is widely recognised by major banks and corporates alike. The compulsory five day tuition school gives a unique opportunity to swap experiences and build relationships not only with corporate peers, but also with sell-side professionals.
CertICM is for you if you:
are a cash manager in a corporate who wants to demonstrate your expertise and dedication with a globally recognised qualification
recently moved into a cash management role (or would like to), either within corporate treasury or as part of a general finance remit
want to expand your understanding of how cash management works at an international level
are a banker or a consultant who needs to understand international cash management from the perspective of the corporate in order to advise clients more effectively
Choose CertICM to:
deliver financial benefits to your organisation with your mastery of international cash management
gain an internationally recognised qualification
establish a cash management professional network to use for the rest of your career
CertICM covers:
the importance of international cash management from both a corporate and banking perspective
how to confidently deal with international cash management issues
how to add real value when selecting, implementing and negotiating cash management arrangements by being able to identify the optimal solution for your organisation
Downloads
The ACT Competency Framework
The competency framework defines the key technical skills, knowledge and behaviours needed to be effective when working in or with the treasury profession. To help you identify which competencies are relevant to you, we've mapped them to four treasury job levels: tactical, operational, managerial and strategic.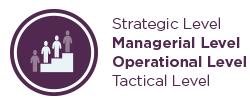 The content of the CertICM introduces skills required to operate at an operational or managerial level.
For more information about the competency
framework visit here