Win-win supply chain finance: innovative technologies and strategies to reduce risk and improve cash flow
08:00 - 10:50 23 May 2017
DIFC Conference Centre – Precinct Building 4, Dubai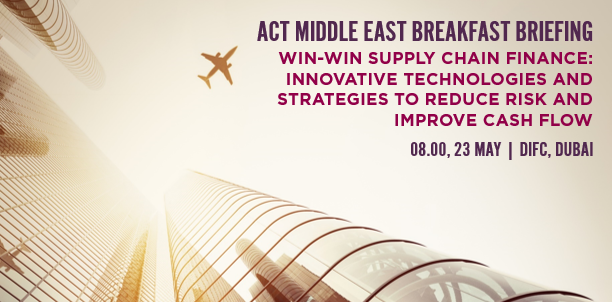 This event is now sold out and you must be registered in order to attend.
Join the ACT and Kyriba, in partnership with the DIFC, in Dubai for a time-efficient, practical and focused breakfast briefing on win-win supply chain finance.
We'll be taking a look at new technologies and strategies which could help you reduce risk and deliver real value to your business using the latest supply chain finance programmes. Plus, the breakfast will explore how corporate treasurers can integrate and harness these tools to improve cash flow and working capital management to keep your business ahead of the curve in today's uncertain environment.
Speakers
Khadija Ali, Senior Vice President Corporates & Service Providers, DIFC Authority
Onur Ozan, Head of Business Development META, SWIFT
Gary Slawther, Treasury Director, Arabtec Holding
Larissa Svabova, Director, Global Operations Supply Chain Finance, Kyriba
More speakers to be announced soon.
Venue
Venue address:
DIFC Conference Centre – Precinct Building 4, Dubai
Speaking opportunities
Various speaking opportunities are available. For more details, please contact:
Jonathan Bates
Live & Digital Content Producer - Global Events
T +44 (0) 20 7847 2580
E jbates@treasurers.org
For more information contact: events@treasurers.org