The Treasurer Cash Management Supplement
The Treasurer magazine Cash Management supplements were launched in December 2007. The aim of the series is to provide practical, topical advice on what treasurers are doing, how they are doing it and why. Case studies will form a key part of the series and there will also be articles based around the ACT's exclusive educational material.
From September 2012 onwards, the Cash Management Supplement series has been integrated into The Treasurer as a quarterly special section. Opportunities for advertising, editorial and whole section sponsorship are available.Please contact Andrew Lawston alawston@treasurers.org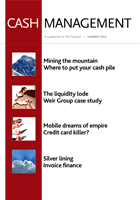 Fixing the flaws
Fears of liquidity meltdown may have receded as the global financial system slowly recovers from the crisis of 2007–08, but significant cash management challenges still lie ahead for treasurers...