The Middle East Treasurer
The Middle East Treasurer reflects the maturity of the ACT Middle East network and will continue to meet the demand for authoritative and independent comment, advice and guidance on treasury, risk and corporate finance issues in the GCC and wider MENA region.
Our current publishing schedule is for 3 editions to be published in January, June and October (to coincide with the ACTME Annual Conference). The magazine is published digitally on our website and is made freely available to the 4000+ members of the ACT Middle East network and our regular publications distribution list of over 10,000 treasurers, corporate finance and risk professionals worldwide.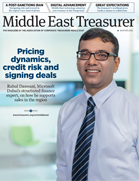 Autumn
Economic readings of GDP growth continue to fluctuate wherever you look across the globe. But while earlier in the year, observers wrung their hands and revised forecasts downwards for the Middle East, the story seems to be changing.