Certificate in Treasury Fundamentals syllabus
The Certificate in Treasury Fundamentals is the first step to building your knowledge and expertise in treasury and corporate finance. It provides you with insights into how treasury fits within an organisation and helps you become familiar with the key concepts and terminology used in treasury.
What will I learn?
The Certificate in Treasury Fundamentals consists of three units:
Unit one: Introduction to the financial world
Unit two: Principles of treasury operations
Unit three: Overview of financial markets and corporate finance
CertTF is for you if you are:
considering a career in treasury or corporate finance
in the early stages of your career and need to know about treasury
in a role that works closely with treasury
moving to a treasury role
Entry requirements
There are no formal entry requirements by way of previous experience or qualifications, but some prior knowledge of business or financial environments would be beneficial.
Exemptions
If you are ACCA, CIMA, ICAEW qualified or qualified with an IFAC recognised body, you are exempt from the Certificate in Treasury Fundamentals. Click here to check accountancy exemptions information.
If you have sufficient prior work experience or hold a relevant qualification, you may be exempt from this certificate. Check the entry requirements for the Certificate in Treasury to see if that might be your starting point on the qualifications pathway.
How do I learn?
The Certificate in Treasury Fundamentals online course learning materials are delivered through the ACT Learning Academy, the ACT's official study centre meaning you:
can access learning content wherever you are in the world
have the flexibility to study when and where you want
can fit your studies around your work and personal commitments
If you would like additional learning support revision workshops are also available.
How long will it take to complete my qualification?
The course is supported by online study resources and is assessed by one online multiple-choice examination which covers all three units. Each unit will take you approximately 50 hours of study time to complete, with 150 hours study required in total. We estimate you should be able to complete the course in three to six months alongside your full-time work.
You can study the Certificate in Treasury Fundamentals through the ACT Learning Academy. Successful completion of the course and passing the examination leads to the award of the Certificate in Treasury Fundamentals.
Assessment – how will I be assessed?
Assessments can be booked at any time. You must be an ACT student or eAffiliate member to book and sit an assessment.
The assessment is a 90-minute exam containing 75 multiple choice questions (MCQs) as shown below:
Section Number of MCQs
Calculation Questions 16
Unit One 22
Unit Two 21
Unit Three 16
Whilst the nominal pass mark for the CertTF is 76%, in order to pass the assessment each candidate must score at least 8 of the 16 Calculation Questions correctly. The calculation questions will cover all three learning outcomes.
You will be provided with information and instructions on the assessment at the time of booking it with ACT. However, you will be able to take assessments as part of your learning programme to assist you in your preparations and to familiarise yourself with the types of assessment questions you can expect during the examination.
ACT membership
When booking onto the Certificate in Treasury Fundamentals you will need to join as an ACT CertTF student member before you can book and sit the assessment. Membership is designed to support you as you progress through an ACT qualification. The qualification provides you with quantifiable and assessed skills, whilst your ACT membership provides you with access to the ACT's wider knowledge base and a range of benefits to help advance your career - from resources to help you develop your business and behavioural skills at the ACT Career Hub, to networking opportunities at our events.
Upon successful completion of the certificate, you will be eligible to become an ACT eAffiliate member and use the designatory letters CertTF. These are what really set you apart and offer a mark of professional distinction to your employers, peers and clients.
By choosing to study with the ACT Learning Academy, you will join as a student member at the same time as you book your online course via the ACT Learning Academy. Your student membership will be valid for the duration of your ACT Learning Academy 12 month learning license.
Once you have registered on the course, you will be recognised as an eAffiliate member. You will need to keep your membership up to date to book and sit the assessment.
You can find out more about membership here.
The ACT Competency Framework
The competency framework defines the skills, knowledge and behaviours needed to be effective when working in or with the treasury profession. To help you identify which competencies are relevant to you, we've mapped them to four treasury job levels: tactical, operational, managerial and strategic.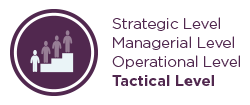 The content of the CertTF introduces skills required to operate at a tactical level.
For more information about the competency
framework visit here
Next steps