Diploma in Treasury Management syllabus
The Diploma in Treasury Management provides an important overview of the scope of managing treasury activities and the treasury function providing a wide range of in-depth technical, managerial and behavioural related skills.
This qualification is made up of four units. The first three are mandatory and for the last you can choose between two units to take as your final unit based on your area of preference. The options have been designed to allow you to specialise according to your personal interest and cover either financial reporting and tax regulation or trade finance. If you are ACCA, CIMA or ICAEW qualified, exemptions apply and optional units may be mandatory. Please see accountancy exemptions for further information.
What will I learn?
The Diploma in Treasury Management consists of three core units:
Unit one: Corporate finance for treasury
Unit two: Risk management for treasury
Unit three: The treasury manager
There are also two optional units and you must select one that interests you most or is more applicable to your role. The unit titles are:
Unit four A: Financial reporting, tax and regulation for treasury
Unit four B: Working capital and trade finance
The Diploma is for you if you are:
working in treasury and corporate finance at a managerial level
working in treasury and corporate finance at a senior operational level
in a role that works closely with treasury and corporate finance
have completed the Certificate in Treasury
The qualification builds on the knowledge gained in the Certificate in Treasury and the syllabus covers funding requirements of the business and the resources available to support those decisions, in addition to consideration of risk management and mitigation strategies for a wide range of complex and interrelated risks.


Entry requirements
The progressive learning structure of ACT qualifications means entry requirements apply. Before starting the Diploma in Treasury Management, you need to have completed the Certificate in Treasury, Certificate in International Treasury Management or have accreditation of prior and experiential learning. To see if you are eligible for direct entry, please view ACT entry requirements.
Exemptions
If you are ACCA, CIMA or ICAEW qualified, you are exempt from certain units of the Diploma. Click here to check the full list of accountancy exemptions.
How do I learn?
The Diploma in Treasury Management online course learning materials are delivered through the ACT Learning Academy, the ACT's official study centre meaning you:
can access learning content wherever you are in the world
have the flexibility to study when and where you want
can fit your studies around your work and personal commitments
If you would like additional learning support, coaching and revision workshops are also available.
How long will it take to complete my qualification?
The course is supported by online study resources. Each unit will take you approximately 150 hours of study time to complete, with 600 hours study required in total. We estimate you should be able to complete the course in 12 months to 18 months alongside your full-time work.
You can study the Diploma through the ACT Learning Academy or one of our approved centres. Successful completion of the course and passing all four of the assessments will lead to the award of the Diploma in Treasury Management.
Assessment – How will I be assessed?
Assessment for the Diploma in Treasury Management is either by assignment or examination, depending on the unit. There is one assessment for each of the units of the qualification.
Units 1 and 2: Three hour online exam
Units 3, 4A and 4B: One assignment per unit
Emphasis at this level in not just on knowledge acquisition, but also the application of knowledge in your job role. A wider range of assessment methods are therefore used to be able to measure this. You will be provided with information and instructions on the assessment at the time of booking it with the ACT.
ACT membership
When booking onto the Diploma in Treasury Management you will need to join as an ACT AMCT student member before you can book and sit the assessment. Membership is designed to support you as you progress through an ACT qualification. The qualification provides you with quantifiable and assessed skills, whilst your ACT membership provides you with access to the ACT's wider knowledge base and a range of benefits to help advance your career - from resources to help you develop your business and behavioural skills at the ACT Career Hub, to networking opportunities at our events.
Upon successful completion of the certificate, you will be eligible to become an ACT Associate member use the designatory letters AMCT. These are what really set you apart and offer a mark of professional distinction to your employers, peers and clients.
If you have chosen to study with the ACT Learning Academy you will join as a student member at the same time as you book your online course via the ACT Learning Academy. Your student membership will be valid for the duration of your ACT Learning Academy 36 month learning licence.
If you are studying with an ACT Approved Centre or have chosen the assessment only route, you need to join as an ACT student member here You will need to keep your membership up to date to book and sit the assessment.
You can find out more about membership here.
The ACT Competency Framework
The competency framework defines the skills, knowledge and behaviours needed to be effective when working in or with the treasury profession. To help you identify which competencies are relevant to you, we've mapped them to four treasury job levels: tactical, operational, managerial and strategic.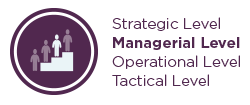 The content of the Diploma introduces skills required to operate at a managerial level.
For more information about the competency
framework visit here
Next steps