Certificate in International Cash Management syllabus
The Certificate in International Cash Management is the definitive qualification in cash management for both corporate and financial institutions delivering significant insights from a global perspective.
The qualification will help you to be confident in dealing with international cash management issues and add real value when selecting, implementing and negotiating cash management arrangements by being able to identify the optimal solution for your organisation. It is suitable for cash managers requiring the skills necessary to implement cash management solutions at local and global levels to release cash for use by the organisation. It is also invaluable for bankers who develop and deliver cash management solutions for their clients by providing first hand examples of the priorities and challenges faced by a corporate.
What will I learn?
The Certificate in International Cash Management covers a wide range of topics and consists of seven units:
Unit one: Cash management – the essentials
Unit two: Working capital management
Unit three: Making and receiving international payments
Unit four: The international cash management function
Unit five: Managing the international treasury function
Unit six: Managing cross-border liquidity and risk
Unit seven: Creating efficient international account structures
CertICM is for you if you are:
a cash manager in a corporate who wants to demonstrate your expertise and dedication with a globally recognised ACT qualification
in the early stages of your career and need to know about cash and liquidity management
looking to expand your understanding of how cash management works at an international level
moving to a cash management role within corporate treasury or as part of a general finance remit
banker or a consultant who needs to advise clients more effectively
Entry Requirements
There are no entry requirements for the Certificate in International Cash Management.
Exemptions
If you are CIMA or ICAEW qualified, you are exempt from Units 1 and 2. Click here to check the full list of accountancy exemptions.
How do I learn?
The Certificate in International Cash Management online course learning materials are delivered through the ACT Learning Academy, the ACT's official study centre meaning you:
can access learning content wherever you are in the world
have the flexibility to study when and where you want
can fit your studies around your work and personal commitments
You will also need to attend the compulsory five-day tuition school in order to proceed to the exam. The school focuses on learning around units 3 to 7 and whilst it does not count towards your assessments, it is a vital part of your exam preparation. Widely seen as the highlight of the programme, it provides an opportunity to build your professional network, share your experiences with the tutors and fellow students, and includes a mock exam component to help you with exam performance.
A popular and highly rated feature of the qualification, it gives you the opportunity to get a good understanding of what you need to do to succeed in your assessment, share your experiences within a supportive classroom environment and build long-lasting and valuable professional relationships with other attendees. Our CertICM tutors are leading international cash management professionals, and will guide you through the study materials while offering their own insights and tips.
Tuition schools run in Hong Kong, Singapore and the UK.
NEXT AVAILABLE TUITION SCHOOLS:
UK tuition school (29 July - 2 August 2019)
Hong Kong tuition school (5 - 9 August 2019)
Booking deadline: 15 March 2019
How long will it take to complete my qualification?
Each unit will take you between 20 and 52 hours of study time to complete. In addition you will be required to attend a five day tuition school, so the qualification will take approximately 300 hours of study time in total.
You can study the Certificate in International Cash Management through the ACT Learning Academy or one of our approved centres. Successful completion of the course, attending the 5-day tuition school and passing the two assessments will lead to the award of the Certificate in International Cash Management.
Assessment – How will I be assessed?
Students will be assessed through two exams. Units 1 and 2 of the new syllabus will be assessed through an online exam that will include multiple choice questions. This aims to test the knowledge and understanding of the syllabus along with the student's ability to analyse and evaluate, and also to apply relevant approaches or techniques including making calculations.
Units 3, 4, 5, 6 and 7 will be assessed through a single online test which will require students to evaluate realistic situations, explain and discuss items, and to apply or suggest practical and relevant solutions and recommendations. Students will be expected to display a wide appreciation of the international cash management environment.
Please note: You will need to attend a compulsory 5-day tuition school. The ACT is the only provider for this tuition school. Attendance is compulsory in order to proceed to the exam, but does not contribute to your final result.
You must be an ACT Student member to book and sit an assessment.
ACT membership
When booking onto the Certificate in International Cash Management you will need to join as an ACT CertICM student member before you can book and sit the assessment. Membership is designed to support you as you progress through an ACT qualification. The qualification provides you with quantifiable and assessed skills, whilst your ACT membership provides you with access to the ACT's wider knowledge base and a range of benefits to help advance your career - from resources to help you develop your business and behavioural skills at the ACT Career Hub, to networking opportunities at our events.
Upon successful completion of the certificate, you will be eligible to become an ACT Affiliate member use the designatory letters CertICM. These are what really set you apart and offer a mark of professional distinction to your employers, peers and clients.
If you have chosen to study with the ACT Learning Academy you will join as a student member at the same time as you book your online course via the ACT Learning Academy. Your student membership will be valid for the duration of your ACT Learning Academy 18 month learning licence.
You can find out more about membership here.
The ACT Competency Framework
The competency framework defines the key technical skills, knowledge and behaviours needed to be effective when working in or with the treasury profession. To help you identify which competencies are relevant to you, we've mapped them to four treasury job levels: tactical, operational, managerial and strategic.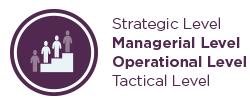 The content of the CertICM introduces skills required to operate at an operational and managerial level.
For more information about the competency
framework visit here
Next steps