ACT Middle East Treasury Awards 2017
Congratulations to all our winners of the 2017 ACT Middle East Treasury Awards
Now in their eighth year, the ACT Middle East Treasury Awards celebrate the achievements of the corporate treasurer and recognise companies and individuals that have shown innovation and excellence in corporate treasury. You only need to take a look at the impressive achievements of the 2017 winners and runners-up to see how busy treasurers in the region have been, demonstrating the value treasury can bring to an organisation. Once again the judges considered all types of deal on the basis of it showing excellence in corporate treasury and in meeting the consistent criteria - sound treasury/finance management, efficient pricing, optimal or innovative structure, relative success in prevailing market conditions - rather than on the size of the deal. This year we were delighted to announce a new award, ACT Middle East Treasury Professional of the Year, in recognition of the individual who has demonstrated exceptional treasury skills and understanding, and who has made an outstanding contribution to their team, organisation or the profession in the region. Winners were announced at the ACT Middle East Annual Dinner held at the H Hotel, Dubai on 20 November 2017.
Winners
WORKING CAPITAL AWARD – Landmark Retail One of the Middle East's largest retail groups, Landmark Retail, took this year's Working Capital Management Award at the ACT Middle East Awards. Landmark's achievements in this area include an overhaul of its working capital infrastructure and the introduction of a long-term supply chain finance strategy to cement links with its Asian supplier base and promote sustainable growth. Embarking on comprehensive review of its working capital management involved benchmarking Landmark's performance against peers, identifying cash management efficiencies and introducing long-term working capital reduction initiatives. Landmark's corporate treasury also wanted to set-up a long-term working capital structure to provide low-cost working capital to its SME supplier base. Within this context, Landmark agreed to structure a supply chain finance solution with Asian Development Bank (ADB) that will facilitate $200m in trade flows between Asia and the Middle East. The retailer sources most of its merchandise from Asia. Thanks to the new arrangement, the company will be able procure goods on a payment-on-delivery basis, providing its suppliers with a sustainable cash-conversion cycle. Rajesh Garg, group chief financial officer at Landmark Group, said: "At Landmark, we have monomaniacal focus on delivering value to our customers. This drives us to constantly innovate across all channels of our value chain. This supply chain financing structure will enhance our relationships with Asian SME suppliers and pave the way for other such programs. In addition, we would reap the benefits backed by the AAA rating of ADB and efficient solution delivery by Deutsche Bank. This award is a great recognition of the efforts of the Landmark Treasury team." Award highlights Issuer/organisation: Landmark Retail Provider: Deutsche Bank Structure: three-month revolving facilities The judges said: "Landmark has arrived at an impressive structure for working capital and is to be commended for its work with SMEs across Asia."
STRATEGIC FUNDING AWARD – DP World Global trade enabler DP World took the ACT Middle East Treasury Award 2017 for Strategic Funding for its expert refinancing of a complex project at its container terminals in British Columbia, Canada. DP World had an existing terminal in Vancouver, Canada, and in August 2015 acquired a new container terminal in Prince Rupert, Canada. The acquisition was amid an expansion project of Prince Rupert and hence required additional funding but to minimise any delays, no external borrowing was put in place at the time of acquisition. However, it was the intention of DP World to put in financing at a later stage to release equity, repay debt, and/or redeploy capital in new projects. After the acquisition, DP World's group treasury team in Dubai raised CAD$ 603m in a non-recourse secured term loan funding. The arrangements included the refinancing of existing bank debt; refinancing of an acquisition loan; a capex facility for equipment and berth expansion; and hedging the interest rate exposure on an amortising basis. The international nature of the deal brought complexity to the transaction as the loan documentation fell under English law, while a security package was governed by Canadian law and the negotiations involved multiple stakeholders and lenders. DP World's treasury team coordinated those negotiations solely with lenders and port authorities without involving financial advisors or structuring banks. Girish Shenoy, director group treasury, said: "It is particularly pleasing to be recognized for our work in the Canadian refinancing." The judges said: "They have covered a lot of ground and driven up-to-date solutions and approaches, doing a great job on a global stage." Deal highlights Issuer/borrower: DP World Prince Rupert Inc and DP World (Canada) Inc Provider: Various Structure: Term loan and refinancing of acquisition debt Tenor: Seven years
SMALL CORPORATE TREASURY TEAM OF THE YEAR – Webcor Food and consumer goods distributor Webcor won the Small Treasury Team of the Year Award at the ACT Middle East Treasury Awards. Led by head of treasury Mona Lockett, Webcor's treasury team has spent the past 18 months working to centralise and embed treasury within a highly dispersed organisation. Webcor derives 95% of its revenues from Angola. It also operates in Mozambique, the Democratic Republic of Congo and Italy and has a presence in Asia and Lebanon. The company is headquartered in the United Arab Emirates. The treasury team installed a Kyriba treasury management system in the group with a strong focus on Angola. At the time, Angola's economy had been severely hit by falling oil prices and the country was struggling with goods shortages, while Webcor in turn grappled with control exchange issues. Implementing the TMS, as well as SWIFT for payments, proved instrumental in helping the company to improve cash visibility across the group, providing the senior management team with invaluable information. The installation also helped streamline the whole bank reconciliation process. "The award was amazing recognition for the group and a measure of how hard we have worked to bring visibility from Africa. This is just one milestone with many more to come. The ACT offers treasury professionals a platform to support growth within the treasury team and as group." The judges said: "The TMS installation, which was achieved in the face of significant challenges, stands out as a great achievement for Webcor."
MEDIUM CORPORATE TREASURY TEAM OF THE YEAR Alghanim Industries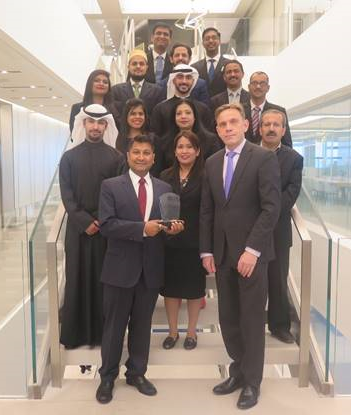 Alghanim Industries is one of the oldest and largest privately-owned companies in the MENA region. Founded in Kuwait, the company employs more than 15,000 people in 30 businesses across 40 countries in the Middle East, North Africa, Eastern Europe and Asia. Alghanim Industries is a market leader in almost every major sector of its operations, which include: engineering, retail, automotive sales and service, insulation and pre-engineered steel building structures, logistics and warehousing, fast moving consumer goods, food & beverage, oil & gas, office automation, advertising, insurance, consumer credit and travel. The company is actively growing its brand portfolio, with a focus on top-tier global partners. In 2015, Robert Etman, chief support services and chief financial officer of Alghanim Industries, nominated Sonal Gupta as the corporate treasurer for the group. Sonal had his work cut out for him in terms of transforming the treasury function. His goal was to move away from transaction activities and, instead, champion innovation while supporting the businesses with their strategic growth initiatives. "My immediate priority was to strengthen talent in the team and minimise risk by meaningfully automating the underlying processes. This is even more critical as we are expanding into new markets and business lines", said Gupta on his appointment. Over the past three years, the Alghanim Industries corporate team has transformed into a diverse unit of specialists offering innovative ideas to the businesses and playing a key role in executing them with the banks. Alghanim Industries was one of the first private organisations in Kuwait to implement straight through processing - a digital payment mechanism on SWIFTNet. The team has also taken significant steps in improving working capital management through innovative and structured products. The group has close to 20 banking partners and the treasury team ensures that the right partners and products are chosen for each requirement. "We work closely with banks who can provide us customised solutions. We work with a Kuwaiti Islamic bank for working capital management for our FMCG business while our automotive supply chain financing programme is supported by a large international bank", said Pramod Bhattiprolu, senior treasury manager. "The need for customisation is also driven by the fact that Kuwait, our home market, is yet to fully mature in terms of financial products", noted Noufal Basheer, treasury manager. One such product, customised specifically for Alghanim Industries' needs, was corporate prepaid debit cards, which has near completely eliminated cash floats within the organisation, thus significantly reducing risk. The case was used by the bank, one of the largest in Kuwait, to develop their prepaid debit card product and supporting systems. The team has been working closely with the banks to adopt innovative products and at the same time optimising the overall costs. "We offer scale and volumes to our partner banks which ensures optimality in product development and costs of adoption", said Gupta. The ACT award of the "Best Medium Corporate Treasury Team" was an appropriate recognition of the enterprising spirit of the Alghanim Industries corporate treasury team. Gupta, receiving the award, said: "The Alghanim Industries treasury team has been taking on bold initiatives to make sure the company is at the forefront in implementing the best treasury practices, and this award is a testament to what we have achieved, and a reminder that we must aspire to continue setting the bar in our field." Commenting on the accomplishments of the team, Robert Etman, said: "I am extremely proud of the achievements of our treasury team under Sonal's leadership. It has transformed itself into a true business partner making a real difference to our operations and has become a leader in product innovation in close partnership with our preferred banks. Winning the Medium Corporate Treasury Team of the Year Award from ACT is the ultimate testament of this." It is this customer-centric approach, along with internationally focused leading edge work and thorough coverage of core treasury areas that motivated the judges to choose Alghanim Industries' Corporate Treasury as the Medium Treasury Team of the Year 2017. The judges said: "Alghanim Industries is to be applauded for its leading-edge internationally focused work. The team there has covered a great deal of ground in core treasury areas."
LARGE CORPORATE TEAM OF THE YEAR - DP World The group treasury team at global trade enabler DP World, the worlds' third largest container terminal operator, was awarded the Large Corporate Treasury Team of the Year at the ACT Middle East Treasury Awards 2017. The judges were impressed with team's wide ranging and high-class work across both transactions and working capital management. The five-strong team has been to the capital markets multiple times in the past 18 months in different geographies. For example, a £650m financing for London Gateway Port Ltd, $1.2bn sukuk due May 2023 in parallel with a $1.127bn fixed price tender offer for $1.5bn sukuk maturing in July 2017, and the CAD$603m non-recourse secured term loan financing and associated hedging for the group's Canadian assets, which won the Strategic Funding Deal of the Year Award. As DP World has 78 terminals in 40 countries across six continents, the treasury team deals with diverse locations, which brings its own complexities, especially in emerging and frontier markets. In the past 18 months, the team has played a key role in the company's strategy by initiating and executing various transactions concurrently, in addition to overseeing day-to-day treasury operations such as cash and liquidity management, interest and FX rate hedging, compliance, credit risk management and trade finance. Furthermore, working closely with the credit rating agencies over the past year has resulted in two upgrades from Fitch (from BBB- to BBB+) and one from Moody's (from Baa3 to Baa2). Girish Shenoy, director group treasury said: "We are delighted to receive the Large Corporate Treasury Team of the Year award. It's been a busy period as we have closed more than $6bn of financings across multiple geographies and over $4bn in spot and hedging transactions." The judges said: "They have shown great teamwork and deal expertise, with an impressive array of achievements and skills demonstrated."
TREASURY PROFESSIONAL OF THE YEAR – PUBLIC SECTOR – Abdulla Belyoahah Treasury Professional of the Year in a public-sector organisation went to Abdulla Belyoahah, head of debt management at the Government of Dubai, Department of Finance. Belyoahah impressed the judges not just for recent achievements in debt management but for his hard work and dedication over a period of some years in terms of introducing and professionalising the treasury function within such a high-profile government department. Belyoahah is to be applauded, they said, for demonstrating and embedding high standards with the department. The judges said: "Abdulla Belyoahah has made a true contribution to the profession."
TREASURY PROFESSIONAL OF THE YEAR – PRIVATE SECTOR – Adam Boukadida The award for Treasury Professional of the Year in a private sector organisation went to Adam Boukadida, acting group treasurer at Etihad Aviation Group (EAG). Boukadida, formerly deputy treasurer at the aviation group, assumed his responsibilities as acting group treasurer in May 2017, bringing more than 15 years' of knowledge and experience in treasury management, global markets and banking to the role. Under his leadership, the treasury team at Etihad has completed a global transactional banking project. The goal was to rationalise the number of accounts and banking partners, reduce costs, eliminate manual interventions where possible and move to increased straight through processing, an end point that was reached six months ahead of schedule. EAG has also made a significant investment in financial technology, leading to the replacement of two separate treasury management systems with a single consolidated system to manage all treasury operations and financial risk management including commodity risk. Boukadida's achievements include developing the 70-strong treasury team, leveraging the different skills and talents in a way that supported Etihad's business and technology objectives. The implementation has brought a simplified payments infrastructure, improved cash visibility and significant cost and time-savings, across the global network. In the same year, the treasury team also raised $1.5bn via a sukuk programme, the largest ever in aviation history. Boukadida said: "I am honoured to be recognised for this award. Credit goes to my team that has worked tirelessly to implement the many strategic initiatives we have implemented over the past 12 months to provide a stronger framework for our business." The judges said: "Adam has demonstrated the value treasurers can bring to an organisation. He has also been a very strong advocate of ACT treasury qualifications, identifying the skills needed by United Arab Emirates nationals and proactively championing the training cause," they said.

View the winners and photos from the awards night here:
Previous winners
The list of previous winners from across the GCC includes: Abu Dhabi National Hotels | Al Fahim | Alghanim Industries | Almoayyed International Group | Asiacell | Aw Rostamani | Dolphin Energy | DP World | Dubai Aluminium | Easa Saleh Al Gurg Group | Etihad Airways | Keuhne + Nagel | Khidmah | KIPCO | Majid Al Futaim | MB Petroleum Services | Midal Cables | Mubadala Development Company | Octal Petrochemicals | Qatar Telecom | Tristar/Agility 2016 2015 2013 2012 2011 2010
Judging Panel

Matthew is the Head of Finance for the Group's Emerging Sectors platform which incorporates Mubadala interests in Real Estate and Infrastructure, healthcare, Mubadala Capital and Enterprise Technology and Services. Prior to this Matthew was the Group Treasurer with responsibility for treasury, financial risk management and insurance. Prior to joining Mubadala, Matthew was the Group Treasurer of DSG International (formally Dixons Group) where he was instrumental in developing the company's treasury framework and strategy to accommodate its overseas expansion into 28 countries. Matthew has worked extensively in the treasury industry for over 20 years in both the public and private sectors. His previous treasury experience also includes several years at Otis, with responsibility for the UK treasury operations of United Technologies Corporation, a Fortune 500 company.

Andrew is the Group Treasurer for Agility, a Kuwait based, global logistics company with a turnover of around USD 5bn, operating in over 100 countries. After obtaining a degree in Chemistry and Business Administration in 1990 from Kingston University, he joined Unilever in the Treasury department and obtained his ACMA in 1994. He joined Ocean Group plc (later renamed Exel plc) in the treasury department in late 1994, and became Group Treasurer in 1998. He left Exel in 2004 and worked with a start-up company specialising in trade receivable financing, but has now returned to mainstream Treasury and has moved to Kuwait. Andrew obtained his AMCT in 1995, and is a founder committee member of the ACT Middle East.

Kevin has over 20 years of experience in the areas of international treasury engagements, risk management, balance sheet management (ALM), financial analysis & reporting and stakeholder management. Kevin has also advised on capital structures, arranged capital raisings, developed complex financing options and negotiated restructurings. He has extensive experience in managing treasuries and treasury operations, as well as driving a broad range of diversified debt, equity and liquidity initiatives in global markets. Kevin has had extensive interactions with internal and external stakeholders, clients and rating agencies on an international stage. He is a skilled and highly-regarded advisor maintaining close interaction with CEOs, Executive Committees and Boards in devising strategic direction, balance sheet structures, asset allocation, investment management and risk mitigation. Kevin has a Masters in Applied Finance, is a Certified Finance and Treasury Professional and a Certified Financial Technician.
Gary is a fellow of the ACT and has over 27 years of finance experience of which 19 have been in treasury across a diverse range of companies, principally multinational, including retail, manufacturing, engineering, logistics and FMCG. Now with OCTAL Petrochemicals in Oman, Gary is centrally involved with financing the growth and development of a technologically and environmentally driven company.

Ricky has been with Etihad Airways since 2007 and oversees the Group Treasury, comprising of the corporate treasury, corporate investment, corporate and structured finance, and insurance functions. He holds a Master's Degree in Mechanical and Aeronautical Engineering and various financial and business management related qualifications. Ricky was voted Global Corporate Treasurer of the Year 2010 by the readership of gtnews and is an Honorary Fellow of the Association of Corporate Treasurers. Senior Executive Positions Held
Group Treasurer – Etihad Airways
Group Treasurer - South African Airways
Managing Director - Andisa Treasury Solutions
Managing Director - Standard Risk and Treasury Management Services, a subsidiary of the Standard Bank Group of South Africa


If a conflict of interest arises during the judging process, the judge concerned withdraws from the discussion and decision-making.
Scroll to top