Qualifications
The importance of the treasury role was highlighted during the 2008 global financial crisis. Since then treasurers' roles have taken centre stage within businesses and their relationships with a company's board of directors have strengthened. Treasury advice is now more sought after than ever and, with the transferable skills you will learn, there has never been a better time to be a treasurer.

Why study ACT qualifications?
The ACT's vision is to support the growth of high-potential, well-rewarded, skilled and experienced treasury professionals who operate at the heart of the most successful companies and shape the financial health of their organisations. We want to inspire talented individuals to choose an exciting, valuable, and rewarding career as the treasurers of tomorrow.
Setting you up for a successful career
We don't just train you to pass your exams, we teach broad range of competencies to set you up for a successful career in finance. Our qualifications are internationally recognised benchmarks that recruiters and employers look for on candidate CVs.
Give employers confidence in your skills
ACT qualifications are underpinned by the ACT Competency Framework. These are the standards for superior treasury practice that drives the performance of successful organisations around the world and give employers the confidence that you have the knowledge and skills to meet their needs.
The ACT difference
ACT designatory letters, which you can only use by taking up and maintaining your ACT membership are what set you apart - they are a mark of distinction that show your onward commitment to maintaining the highest professional standards.
A progressive qualification pathway
The ACT offers a progressive learning path for those choosing a career in treasury. The ACT qualifications have been mapped to the four treasury job levels of the ACT Competency Framework; tactical, operational, managerial and strategic. This means you can work your way up from a junior position or jump on and off at your appropriate level.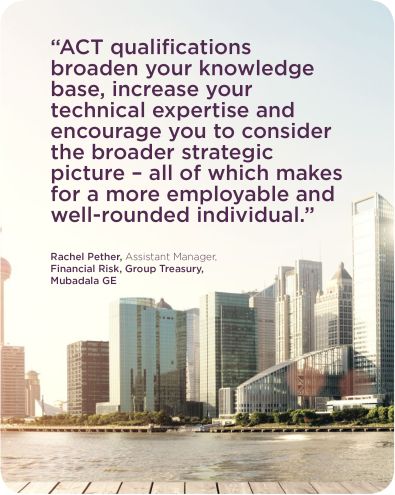 Find out more about ACT qualifications, study options, assessment methods and inspiring case studies below:
Qualifications syllabi
ACT qualifications study path and syllabus content
Discover more here »
Study options
Approved centres and partner universities
Select yours here »
Assessment
Everything you need to know
Book yours here »
Success stories
Qualification pass lists are published bi-annually.
Discover inspirational case studies and back editions.
Available for download here »
Prize winners
Each year the ACT recognises students who have excelled in their studies and demonstrated academic excellence.
View the lists of prize winners here »