ACT Annual Conference 2017
16 May - 17 May 2017
Manchester Central, UK

NOW OPEN FOR BOOKINGS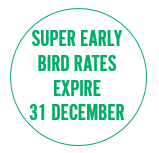 The most powerful treasury and finance debate returns to Manchester on 16-17 May 2017.
Our new two-day format promises the same level of unrivalled content and networking, but with the added advantage of less time out of the office.
Take a look at our video to get a taste of what to expect next time:
ACT Annual Conference 2017 - video
Video loading...
What does your place include?
THIS GETS YOU...
- 11 hours of content
- 12 hours of networking
- full access to the event mobile app
- entry to the UK's largest treasury exhibition
- an invitation to the social highlight with unmissable entertainment
- conference materials
Key stats from 2016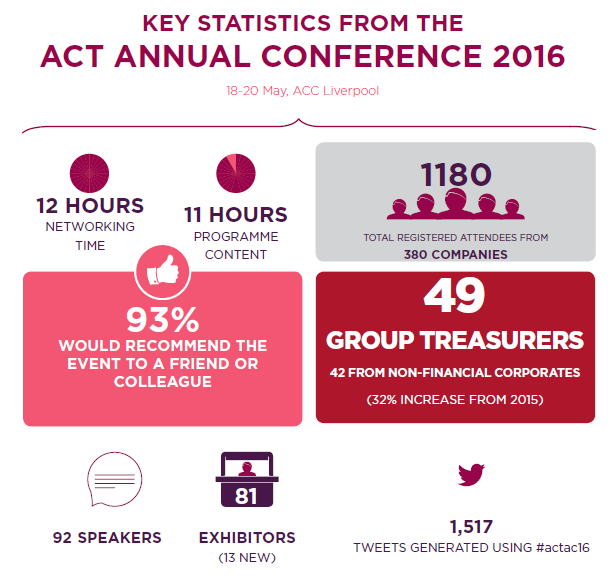 Sponsorship, exhibition and speaking opportunities
Interested in sponsoring or exhibiting?
Contact Denis Murphy on dmurphy@treasurers.org or +44 20 7847 2581
Are you a corporate treasurer with a success story to share?
Contact Sarah Netherway on snetherway@treasurers.org or +44 20 7847 2586 to find out about our speaking opportunities.
Register your interest in attending now by emailing events@treasurers.org
Read what our delegates say
"The ACT Annual Conference is a great event to get together with other treasury professionals. In the treasury profession I often find we are dealing with common issues and it is very useful to hear how others are facing these issues, either as 'best practice' in the seminars or personal experience through informal networking."
Richard Sharp, Group Treasurer, Hammerson plc
"The ACT Annual Conference was time well spent out of the office. It provided a good opportunity to discuss the latest topical issues with industry leading experts, share and address a couple of problems we are currently facing as a business, network with my peer group and simply catch up with old friends, some who I had not seen in a long time."
Mike Hirst, Group Treasurer, easyJet
"The ACT Annual Conference in Liverpool didn't disappoint, with numerous topical and informative seminars as well as being the ideal place to meet with peers and counter-parties all under one roof. Liverpool's Anglican Cathedral was a spectacular location for the dinner and all made for a very rewarding and enjoyable conference. I look forward to attending the conference next year in Manchester."
Nick Overton-Smith, Group Head of Treasury Risk, Tui Group
"The 2016 ACT conference provided a great opportunity to network and catch up with colleagues both past and present. The content was informative, thought provoking and relevant to the issues faced by corporate treasurers today, well worth the time."
Steve Humphreys, Group Treasurer, New Look
"A fantastic opportunity to meet colleagues and external stakeholders whilst attending relevant and engaging sessions on a wide range of interesting topics."
Paul Cruddis, UK Power Networks
"A great educational and networking experience - a great investment of time."
Julian Sakowski, Commonwealth Bank of Australia
"Fantastic event, great enthusiasm and inspirational speakers made me feel proud to be a member of the ACT."
David Hall, Global Payments
"Fantastic opportunity to line up informal meetings with industry colleagues and suppliers you don't get the opportunity to see very often!"
Richard Spencer, Anglian Water
"For any serious treasurer it's the "must attend" event. However else can you get such a breadth and depth of update and insight. This is highly concentrated, highly effective CPD."
Gary Slawther, OCTAL SAOC FZC
"Great conference. A very diversified bouquet of focused presentations with relevance to the Treasurer`s daily challenges. And a great networking event."
Helmut Schnabel, IGTA, Asecuris AM Adv GmbH
"It's great to go back to the office with a bag full of new ideas, new contacts and pens."
Ian Clark, Northern Gas Networks
"My first ACT AC was hugely beneficial with relevant content and of course a fantastic networking opportunity."
Simon Clarke, Fitness First
"One of the best Treasury networking events - time well spent!"
Dino Nicolaides, Deloitte
"The ACT conference always provides a great mix of high quality speakers covering a range of diverse and interesting topics, with great opportunities to meet with old friends and new contacts."
Steven West, United Overseas Bank
"The only opportunity for intense review & discussion of current technical treasury issues with strategic business & financial considerations - with a bit of fun thrown in."
Fiona Crisp, Crisp Consultants
"The premier treasury event in the UK, a one stop shop."
Paul Batchelor, Sage
"The quality and diversity of the Speakers means that you always walk away one step ahead of your peers."
Sarah Pickering, Allied Irish Bank (GB
"This is the first time I have been to the conference but I will definitely attend next year, I met so many people and gained so much knowledge and information that I would recommend the conference to anybody in a Treasury profession."
Kate Moorcroft, National Express
Location