Digitisation drives working capital transformation
Consolidation and ecommerce are driving change in transport and logistics. Increasingly, treasurers will look to source competitive working capital solutions. Maurice Benisty explains
The $4.6 trillion transportation and logistics (T&L) industry is facing considerable change, with technology acting as a major driver. Ecommerce – and the continuing shift from retail to 'etail' – is enabling companies to manage their supply chains ever more effectively, while developments such as 3D printing could have significant implications for warehousing requirements and transport volumes.
At the same time, industry consolidation presents both opportunities and challenges for companies in this sector. Alongside the desired economies of scale, consolidation can also lead to inefficiencies and the use of multiple enterprise resource planning (ERP) systems. Likewise, fragmented structures can make it challenging to include numerous operating companies in a coherent financing arrangement.
Globalised industry versus localised funding
Other factors also present challenges where funding is concerned. While the T&L industry is becoming more globalised, there is a growing trend for banks to provide funding on a more localised basis. Consequently, companies may need to go beyond their relationship groups when seeking to achieve their funding goals.
For the many fintech players aiming to extend the traditional reach of working capital finance products, this offers something of an opportunity. Platform providers can play a key role in broadening the universe of banks that can be included within the perimeter of a transaction. They can also enable companies to combine direct relationships with multiple funders in order to meet their needs on a more flexible basis.
Leveraging technology
Indeed, technology can play a starring role in helping companies achieve their objectives, while also providing enhanced risk monitoring for investors, and more robust transaction management services for corporate treasurers.
One consideration for T&L businesses is that companies in this sector often have high volumes of customer flows and supplier payments. As a result, situations can arise where transportation companies are making purchases from the customers they serve. For receivables finance providers, this can lead to complexity around the prospect that receivables purchased could, potentially, be offset by corresponding liabilities in the event of a disruption. Technology providers may be well placed to address this issue by separating out customer flows from supplier payments and optimising the advance rate by funding on a net basis.
Where financing solutions are concerned, specific areas of focus include supply chain finance (SCF) and trade receivables securitisation. SCF programmes have been adopted by some corporates in order to optimise terms while generating financing for suppliers at reduced costs. Meanwhile, trade receivables securitisation has become an increasingly important component of the treasurer's toolkit. New technology-based solutions can incorporate multiple ERP systems and operating companies into a single financing structure, and optimise that structure for all the parties involved.
Reaping the rewards
By aggregating data from operating companies across different jurisdictions, fintech providers can speed up the implementation times for transactions while supporting straight-through processing. Treasurers may lack systems capable of aggregating this data into a single report, so a solution with these capabilities can give investors the data they need to optimise their advance rate.
Demica's platform, for example, can process millions of invoices each day and provide daily reporting if needed. The more comprehensive the reporting, the more comfortable investors are likely to be when setting the advance rate. Likewise, if a third party is responsible for data extraction and reporting, this process becomes a light-touch experience from the treasurer's point of view.
This was the experience of one private equity-backed global leading logistics company. Seeking to access liquidity at a favourable rate, and thereby support its operating companies in six European jurisdictions, the company tasked Demica with providing a securitisation of billed and unbilled trade receivables. Split between two global banks, the transaction had a funding limit of €170m.
As well as incorporating multiple currencies and operating companies, the solution consolidated data from a number of systems in order to deliver enhanced reporting and satisfy stakeholders' needs. (See graph below, which shows enhanced rates for securitised borrowing, compared to average revolving credit facilities for similar maturity debt.)
As the company's treasurer remarked, "This securitisation forms a pivotal part of our liquidity structure in Europe, and is transformational for us in terms of access to liquidity and cost of funds."
Moving forward
In conclusion, both banks and financial services companies will need to innovate in order to match the pace of change currently shaping the T&L sector. While developments such as blockchain and artificial intelligence have much potential to shape new solutions going forward, existing solutions such as trade receivables securitisation have considerable potential to drive benefits for corporate treasurers and help them manage working capital more effectively.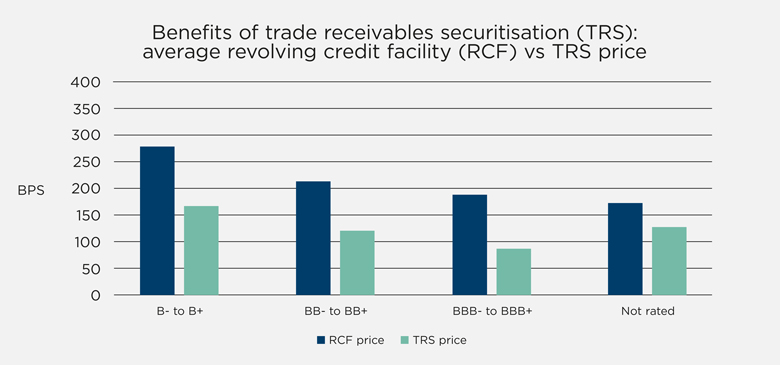 About the author
Maurice Benisty is chief commercial officer at Demica