ACT Middle East Treasury Summit 2019
01 October - 02 October 2019
Madinat Jumeirah, Dubai, UAE - Joharah Ballroom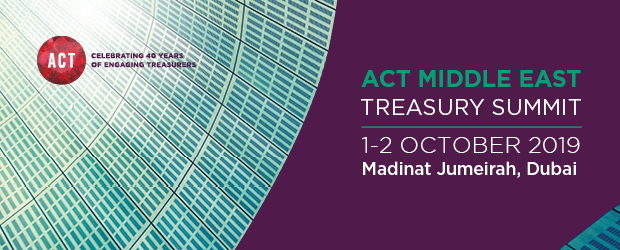 Now in its eleventh year, the ACT Middle East Treasury Summit is growing in size and profile and will once again feature a mix of strategic keynote, operational track sessions, hands on workshops and a bustling exhibition, over two days. This year's conference will run under the theme regional insights, global perspectives.
Creating that perfect blend of local intelligence from those in the region and global perspectives from our pool of international speakers, the event will provide attendees with a broader picture of what's happening in the treasury world.
2019 conference topics include:
Beyond the GCC: tapping into Africa, Egypt and Turkey
The latest technology and innovations shaping payments
Regional free trade zones and tax implications
Working capital management
Global markets and trends
New approaches to (re-)financing
Fintech for treasurers
Regulatory changes to watch out for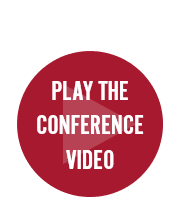 #ACTMiddleEast
Why attend?
Understand the impact of global events on your business
Expand your technical toolbox and areas of expertise
Share lessons learned from leading treasury teams
Forge powerful connections and enhance your professional network
Don't just take our word for it:
"ACT does it again. Great event, networking with treasury peers and lots of learning and development opportunities."
Umar Pirzada, Emirates Group
(Speaker at the 2018 Summit)
"Would love to come back and repeat! Enriching, insightful and educational"
Hemnt M Mehta, Alghanim Industries
(Attendee at the 2018 Summit)
Who attends?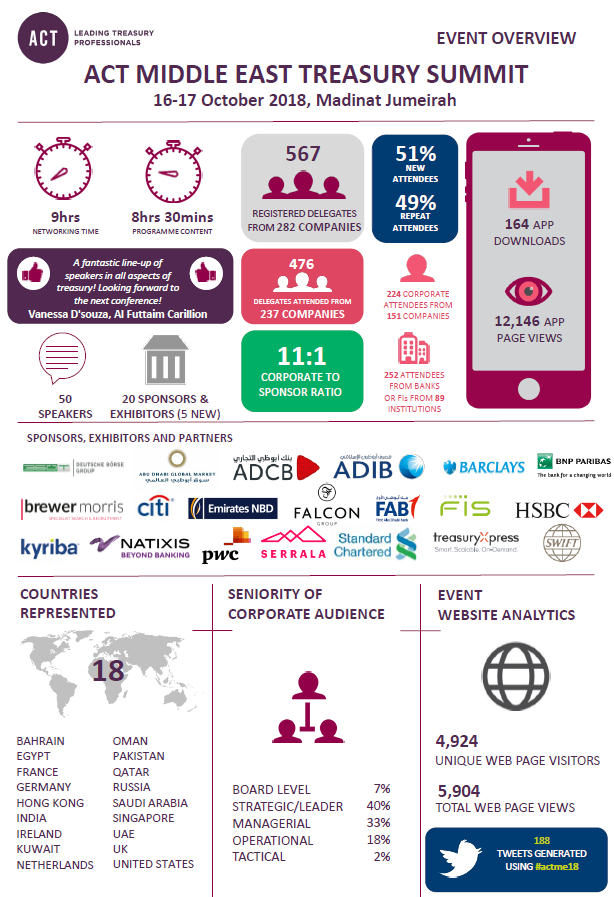 Prices

SUPER EARLY BIRD RATES END 30 JUNE 2019 - GIVING YOU A MASSIVE SAVING OF OVER 50% ON THE STANDARD PRICES!
NOTE: the UAE VAT of 5% will be added to all prices during the booking process.
Venue
The ACT Middle East Treasury Summit 2019 will be hosted at the Madinat Jumeirah in Dubai, United Arab Emirates.
Set across its own private beach and surrounded by picturesque waterways and traditional Arabic architecture, this year's venue is an authentic recreation of ancient Arabia, capturing the natural beauty of the region.
The Madinat Jumeirah is conveniently accessible from downtown Dubai and located only 25 minutes from Dubai International Airport.
Address:
Madinat Jumeirah
Conference & Events Centre (Joharah Ballroom)
Al Sufouh Road
Dubai, UAE
Meet the Advisory Panel
The programme of this event is supported and informed by our regional Advisory Panel.
The ACT Treasury Network Middle East Advisory Panel was developed to provide on the ground intelligence and guidance and ensure the ACT is supporting the local needs of the treasury and finance community. The panel consists of treasury professionals from some of the largest and most influential organisations across the GCC and helps drive the high-quality and impartial content the ACT Middle East Treasury Summit is known for in the region.
Sponsorship opportunities
To find out more on opportunities to sponsor or exhibit at this conference, please contact:
Simon Tempest
Business Development Manager
T: 44 (0)20 7847 2580
E: stempest@treasurers.org
Speaking opportunities
To find out more about presenting or taking part in a panel discussion, please contact:
Sulamith Waldmeier
Senior Programme Manager
T: 44 (0)20 7847 2583
E: swaldmeier@treasurers.org
ACT Middle East Treasury Awards
ACT Middle East Treasury Awards - COMING SOON!
We are also delighted to announce that this year's treasury awards takes place just before the main conference, on 30 September 2019. Further details on categories and call for nominations will be coming soon! To register your interest, contact us at:
Simon Tempest
Business Development Manager
T: 44 (0)20 7847 2580
E: stempest@treasurers.org
For any enquiries or more information, please email events@treasurers.org or call +44 (0)20 7847 2589.