Risk culture - summary report
Risk Culture, Resources for Practitioners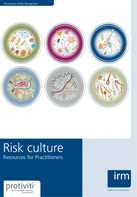 The ACT welcomes this report from the Institute of Risk Management which focuses on risk culture. Treasurers know that risk management goes beyond risk policies and rules – it is also driven by values, beliefs and attitudes of the individuals and their organisations.
IRM members, like ACT members, realise that professional standards, an ethical code and good training will contribute to a good risk culture. The relationships analysed in the IRM Risk Culture Framework show that the right individual can, and does, make a real difference.
Full report available for ACT members and faculty members
The summary report is available to download below.