ACT Treasury Forum 2017
12:00 - 17:00 08 November 2017

This event has now reached capacity but if you are a corporate treasurer or working in the treasury function and would like to be added to the waiting list. please email events@treasurers.org.
This forum is the perfect platform for leading treasury professionals to come together - sharing and debating the key issues of the day in an informal and interactive setting.



Powered by:

Venue & timings
Registration: 12.00
Close of Conference: 17.00
The Ballroom
Grosvenor House Hotel
86-90 Park Lane
Mayfair
London
W1K 7TN
T: +44 (0) 20 7499 6363
What should you expect?
Take a look at a write-up from the December/January issue of The Treasurer here.
Click here to view last year's programme.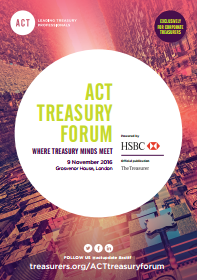 Past delegates said…
An invaluable forum enabling treasurers to share market insights.
Good source to keep abreast of current issues impacting treasurers.
Nice venue! Great and large audience! Impressive.
FX volatility is like Christmas – it's all about relatives. Really enjoyed the FX presentation.
Excellent opportunity to hear from fellow treasurers with plenty of time for networking.
A great opportunity for not only networking with fellow treasury professionals, but also for learning and lot more about current threats and trends. Interesting from both corporate and bank perspective.
Good panel discussions to get perspective on other treasurers.
Thoroughly a value adding event.
Useful debate and update on a variety of current topics from both a bank and corporate perspective.
Great to attend an event where treasurers can talk candidly about their challenges and priorities.