ACT webinar: The post-low interest rate world – are you ready?
12:30 - 13:15 08 March 2018


With interest rates likely to change in the short to medium term, have you planned your interest rate execution strategy?
In this webinar, we'll discuss the practical aspects of interest rate risk management, covering interest rate hedging execution and pre- and post-trade documentation, as well as any regulatory aspects. Alongside a treasury-practitioner presentation by global aerospace corporation Dubai Aerospace Enterprise, Chatham Financial will share insight from the 2,000 client companies they've worked with worldwide, covering both the strategic and tactical considerations of risk management.
We hope to have as interactive a webinar as possible; we would welcome questions throughout to keep the debate lively. We would also welcome your specific questions in advance – please email events@treasurers.org to submit a question.
Once you have registered you will receive a confirmation email. If you have not received this within an hour please let us know at events@treasurers.org.
Sponsored by: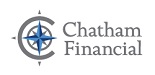 Speakers
Katherine O'Brien, VP Treasury, Dubai Aerospace Enterprise

Katherine is the head of the treasury team at Dubai Aerospace Enterprise (DAE). DAE is a leading aircraft leasing company, with assets in excess of $14b, serving 114 airline customers in 55 countries. Previously, she led the treasury team at AWAS (an aircraft leasing company acquired by DAE in 2017) and held a variety of treasury roles with Intel Ireland and Intel UK. Katherine holds a degree in International Marketing and Languages and successfully completed the MCT in 2000.
Svenja Schumacher, Manager – Risk Management Advisory, Chatham Financial Europe

Svenja Schumacher is a member of Chatham's corporate advisory team in London, advising public and private corporations in Europe on risk management strategy and providing quantitative analysis with respect to currency, interest rate and commodities exposures. Prior to joining Chatham, Svenja worked nine years in several commercial and finance roles for Siemens in Germany and the UK. In her last role, she was advising on FX hedging strategies for large energy and infrastructure projects. Svenja received her Bachelor of Arts in Business Studies from the Friedrich-Alexander University Erlangen-Nürnberg in Germany together with a commercial qualification from the Nuremberg Chamber of Commerce and Industry. She holds a Diploma in Treasury from the Association of Corporate Treasurers.
Karolina Windys, Director of Global Regulatory Solutions in Europe, Chatham Financial Europe

Karolina Windys leads Chatham's global regulatory solutions team in Europe. She is responsible for Chatham's suite of products for derivatives regulatory compliance and legal documentation, including regulatory advisory, ISDA negotiation, pre- and post-trade compliance processes. Karolina advises private equity sponsors, real estate funds and corporate clients on the impact of global derivative regulations. Prior to Chatham, Karolina worked as a European Law Expert at the Ministry of Health. Karolina graduated magna cum laude from University of Wroclaw with a Law Degree and she holds a Master's Degree in Corporate and Financial Law from University of Glasgow.