ACT Working Capital Conference 2018

Working capital is the lifeblood of every company, and managing it, the essence of the treasury function. Now in its fourth year, the ACT Working Capital Conference is a key meeting point for delegates and exhibitors to gather and discuss topical working capital issues that directly affect corporates and their supply chains.
As the only conference of this size dedicated exclusively to working capital management (WCM) in the UK, this compact yet comprehensive event is ideal for time-pressed treasury experts to get the latest updates on WCM and supply chain finance (SCF) in one place and day. Join us on 28 November in London to meet fellow working capital experts from across the UK and Europe and benchmark your organisation's working capital performance against that of your peers.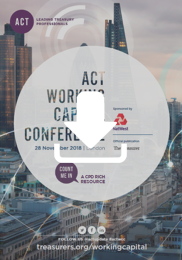 What's on the agenda?
✔ The digital evolution of working capital
✔ P(l)aying by the rules: an honest look at late payments
✔ Cash forecasting: new products, old problems
✔ Leading with data: using analytics to improve your cash conversion cycle
✔ Will treasury take a lead on supply chains in the future?
✔ Cultivating accounts payable cost savings through automation
✔ New platforms in invoice financing – a fad or here to stay?
✔ Suppliers, buyers and the banks: bridging the gap through supply chain finance
✔ Mobilising all levels: working capital and procurement at the top



Who should attend?
✔ Working capital experts looking to deepen their knowledge and exchange best practice with fellow practitioners
✔ Treasury professionals responsible for their financial supply chain who want to understand how to enhance working capital, increase liquidity and mitigate risks
✔ Procurement professionals working with treasurers

What do past attendees say?
"Working Capital is definitely getting more focus at executive level. Leading corporates realise that it needs strategic direction and treasury is increasingly being called upon to champion this across various functions - sales, procurement, logistics and finance. The ACT Working Capital Conference was a great opportunity to discuss the learnings from corporates, banks, vendors and consultants, and to share what's working and what isn't."
Peter Ziegenfuss, Bank of America Merrill Lynch


Sponsored by

A snapshot of past ACT Working Capital Conferences
In recent years, treasury and finance experts from a broad range of institutions have shared their expertise and insights at this conference, including:
Rowan Austin, Head of Trade & Working Capital, Royal Bank of Scotland
Jason Bristow, Former VP Finance & Treasurer, Amazon.com
John Bugeja, Managing Director, Trade Advisory Network
Andrew Burns, Business Development Director, C2FO
Nicolas Christiaen, Managing Director, Cashforce
Conor Deegan, Founder & Director, CashAnalytics
Alan Drew, Group Treasurer, John Lewis Partnership
Graeme Gilbert, Deputy Group Treasurer, Marks and Spencer
Andrew Griffiths, Assistant Treasurer, Anglian Water
Jane Harris, Head of Settlement Operations, Treasury, Visa Europe
Joanna Hawkes, Group Treasurer, Marks and Spencer
Sophie Holm, Project Lead, R3 Consortium
Philip King, Chief Executive, Chartered Institute of Credit Management (CICM)
James Marshall, Head of Treasury, Virgin Media
Paul New, Global New Working Capital Champion - Group Treasury, WPP
Chris Peek, Treasury Manager, Trinity College
Jane Pilcher, Group Treasurer, Anglian Water
Phil Rice, Head of Credit , Aggregate Industries
Yael Selfin, Chief Economist, KPMG
Brian Shanahan, Director, Informita
Mirka Skrzypczak, Member of the R3 Consortium and Head of Open Account Product Suite, NatWest
Chris Southworth, Secretary General, International Chamber of Commerce UK
John Swift, Group Treasurer, The Sage Group
Eileen Tindall, Group Treasurer, Arqiva
David Venables, Senior Consultant, LiquidX
Claudia Villasis, Manager Risk, BHP Billiton
Barrie Watson, UK Head of Structured & Capital Products, Aon
Oliver Whiddett, Vice President - Group Treasury, Tate & Lyle
Gary Williams, Deputy CFO & General Manager Treasury, Mitsubishi Corp International (Europe)
Steve Williamson, VP Finance - Cash Generation, AstraZeneca
Download the 2017 conference programme for an idea of what to expect here.
Prices

ACT e-Affiliate members do not qualify for event discounts but have a number of benefits which can be found here.
Please note: for those eligible for free delegate passes, a maximum of three free passes may be requested per company. Please contact us at events@treasurers.org to discuss delegate pass rates for more than three attendees from the same company.
Sponsorship and exhibition opportunities
To find out more about sponsorship or exhibition opportunities at this conference, please contact:
Jennifer Poolman
Sponsor Relationship Manager
T: 44 (0)20 7847 2545
E: jpoolman@treasurers.org
Venue
etc.venues, Prospero House
241 Borough High St
London
SE1 1GA