Asia Treasury Leaders' Forum 2017
08:00 - 17:30 27 September 2017
HKCEC, Hong Kong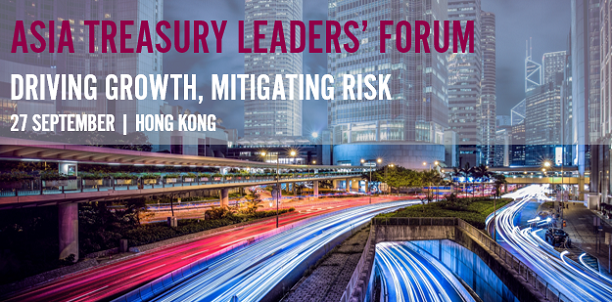 Last year over 250 treasury and finance professionals from across Asia attended the ACT Asia Treasury Leaders' Forum. On 27 September in Hong Kong, discover the latest developments and opportunities in treasury tools, tactics and strategy in today's fast-changing, uncertain political, regulatory and economic environment.
The ACT is the only professional treasury association delivering a leading treasury event for the region which brings together corporate practitioners, experts from the financial services industry and policy makers. It is the perfect meeting place to share knowledge, experience and best practice and build your professional network.
Free for all non-financial corporate organisations.
Read what past attendees had to say...
The ACT event helps to benchmark on organisation, technology and trends plus it provides a unique opportunity for professionals to network with various stake holders sharing and exchanging best-practices and solutions.
Denis Ecknauer, ABB (China)
A great forum. Get the latest trends and developments in the corporate treasury arena. I recommend all practitioners to attend!
Kitty Fung, Vitasoy International Holdings
The ACT and its growing international recognition is an essential ingredient for developing treasury management competence. The ACT qualification ladder is more relevant than ever as we continue to suffer from the lingering effects of the global financial crisis and the poor financial risk management competence of so many people in key positions.
Raj Rai, IKEA
The ACT Asia conference is a great way for treasury professionals in the region to interact and learn from each other.
Brendan McGraw, CITIC Securities International
The knowledge you get from the conference is more or less equivalent to one year's self-experience in the treasury field.
L.Y. Chu, Institute of Financial Accountants
Great opportunity to listen and learn directly from the expertise in the region, sharing ideas and best practise as we expand the network.
Novieana Tenrisau, LyondellBasell
The ACT Asia Conference was a fantastic conference as it presents a rich amount of discussion and presentation that best represents the diverse landscape of Asia. It is also a great place to network and collaborate with treasurers, regulators and bankers from Asia.
Nicholas Soon, BAT
Specifically focussed, highly well organised and respectable event. The exhibition booths are resourceful, professional and interactive. Good ideas and set up.
V Leung, Thomson Reuters
The ACT Asia Conference is among the most informative and practical treasury events that one can get in the region. The diversified agenda, quality sessions and well-represented participants have made this a wonderful experience.
Francis Ho, CLP Holdings
Diverse and informative topics providing great insight into Asia/China specific issues.
Sean Bunyan, Standard Chartered
Prices
| | Early bird rate* | Standard rate |
| --- | --- | --- |
| ACT members (including student members and affiliate members) | FREE | FREE |
| Non-members from non-financial corporates | FREE | FREE |
| Non-members from banks, financial institutions, consultants and other business service providers | HK$5,900 +VAT (if applicable) | HK$7,400 +VAT (if applicable) |
Group discounts are also available.
For more information, please contact Stuart Roscoe at sroscoe@treasurers.org.
*Early bird rates apply up to and including 30 July 2017.
Highlights from 2016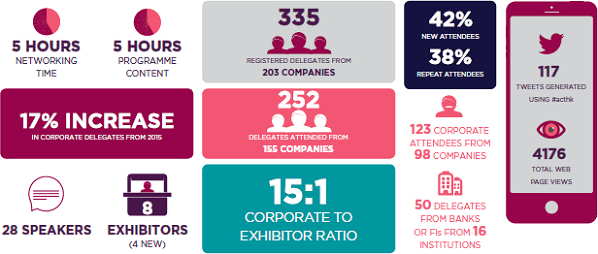 Take a look at the programme from 2016 here.
Venue
Venue address:
Hong Kong Convention and Exhibition Centre
1 Expo Dr, Wan Chai
Hong Kong
Speaking opportunities
Various speaking opportunities are available. For more details, please contact:
Sulamith Waldmeier
Live & Digital Content Producer - Global Events
T +44 (0) 20 7847 2583
E swaldmeier@treasurers.org
Sponsorship opportunities
Various sponsorship and exhibition opportunities are available. For more details, please contact:
Jennifer Poolman
Sponsor Relationship Manager
T +44 (0) 20 7847 2545
E jpoolman@treasurers.org