ACT Cash Management Conference 2019
08:00 - 17:30 12 February 2019
DoubleTree by Hilton - Tower of London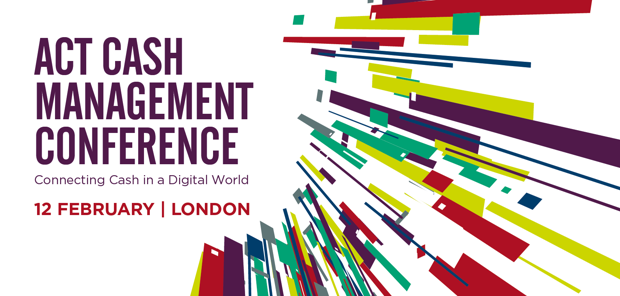 Join us for the 15th edition of the ACT Cash Management Conference on 12 February 2019 in London.
The ACT's flagship cash management event of the year provides a unique opportunity to share best practice, hear practical case studies from leading corporates and network with fellow cash management and treasury professionals.

Don't just take our word for it:
It is a very well organised event, and a good learning experience for everyone. The event was focused on current issues/trends, best practices used by treasurer's in different sectors according to needs of a specific organisation. It's good to know what problems other companies are facing and how they are mitigating them. It's a good networking opportunity too!
Hanoz Mirza, Bowleven
Enjoyable event with insight into up and coming developments, especially, innovation and virtual payments.
Sui Lee, Triland Metals
A great conference providing real insights to the key cash management topics of the day!
Neil Gray, SWIFT
Powered by


What's on the agenda?
The payments landscape: keep up to date with the latest changes in payments innovation and regulation:
the latest regulatory changes and payment fraud (panels)
cross-border payments, the New Payments Systems Organisation (breakout sessions)
setting up a payments factory (best-in-class case study)
Cash management evergreens: lack of control and visibility remain the top cash management challenges for treasurers. Discuss key questions such as:
what really makes good cash management? (panel)
cash pooling structures and trapped cash (breakout sessions)
how to get cash forecasting right from the beginning (best-in-class case study)
The bigger picture: look beyond day-to-day cash management and listen to frank discussions on:
the profitability of cash management products from a bank's perspective (panel)
designing an optimised liquidity portfolio (breakout session)
the future of cash management innovation (panel)
Speakers
Joanna Bonnett, Group Treasurer, Page Group
Karen Braithwaite, Head of Transaction Banking, Barclays
Simon Brooks, Senior Product Manager, Faster Payments
Phil Connell, Global Treasury Manager, The Body Shop
Bradley Gains, Treasury Manager, UPS Global Treasury
Stephen Lemon, Co-Founder, VP – Corporate Development, Currency Cloud
Richard Martin, MD, Transactions Product Management, Barclays
Austin Matthews, Assistant Treasurer, Sky
Peter Matza, Speakers' Chair, ACT
Stephen Powell, Partner – Financing, Slaughter and May
Jan Putnis, Partner, Financial Regulatory Group
Silke Reimers, Director, Global Treasury Operations, Unilever
Subas Roy, Partner, Oliver Wyman
Alastair Sewell, Head of Fund & Asset Manager Ratings EMEA & Asia-Pacific, Fitch Ratings
Robin Terry, Vice Chairman, Cash Management, Transaction Banking, Barclays
Karl Trumper, MD Head of Trade & Working Capital UK, Barclays
Paul Watters, Head of Corporate Research, S&P Global Ratings
Ian Wheeler, CEO, Income Group
Chrysoula Zervoudakis, Consultant, Edison Investment Research
Interested in speaking?
Please contact Daniel Dowson
Programme Manager – Global Events
T: 44 (0)20 7847 2547
E: ddowson@treasurers.org
Who attends?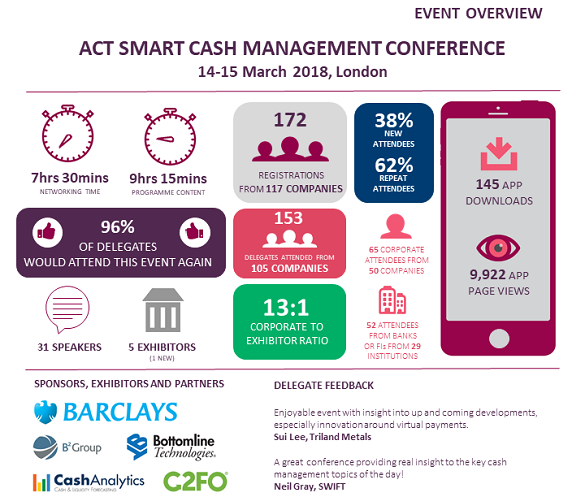 Smart Cash Management Conference report 2018
At the ACT 2018 Smart Cash Management Conference, speakers, delegates and panellists discussed the balance between innovation, regulation and strategy.
Download this report to read about the key talking points of cyber risk and fraud prevention, liquidity and risk, regulation and FinTech, bank relationships, and Brexit, as well as working capital and cross-border payments.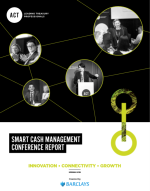 Sponsorship opportunities
To find out more on opportunities to sponsor or exhibit at this conference, please contact:
Simon Tempest
Business Development Manager
T: 44 (0)20 7847 2580
E: stempest@treasurers.org
Prices


*The early bird rate is valid until 14 January 2019
Venue
DoubleTree by Hilton - Tower of London
7 Pepys St
London
EC3N 4AF
For any enquiries or more information, please email events@treasurers.org or call +44 (0)20 7847 2589.