ACT Middle East Annual Summit 2017
21 November - 22 November 2017
Conrad Dubai, United Arab Emirates

The region's largest and most established networking event for treasury and corporate finance professionals returns to Dubai on 21-22 November.
Now in its eighth year, the ACT Middle East Annual Summit is the largest and most popular treasury event in the GCC. Uniting the region's leading corporates, you can expect to meet over 500 treasury and finance professionals, hear thoughtprovoking insights and best practice from over 60 speakers and talk business with leading product and service providers, all under one roof.
Join us to be educated, informed and inspired to ensure your department adapts, innovates and excels in mitigating risk and maximising value.
The programme
Download the latest programme here: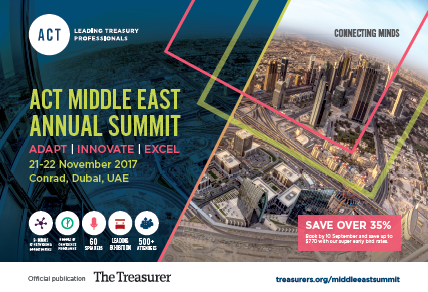 Conference video from 2016
2016 at a glance
Click here to view the full album.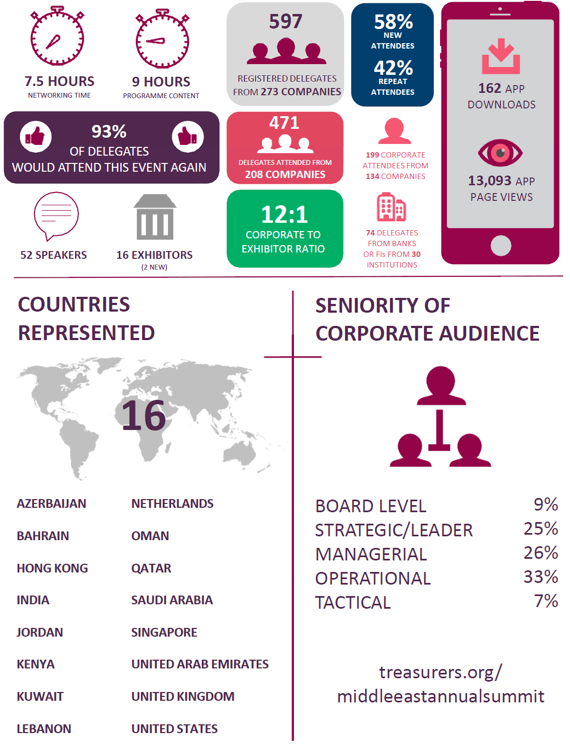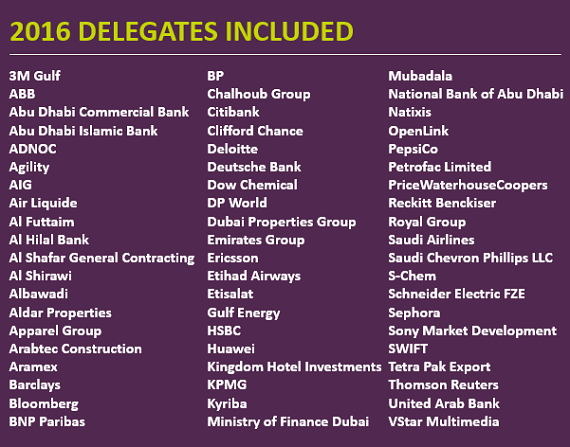 Hear what our delegates say
ACT Middle East Annual Summit 2016
"Keeping you abreast with developments in treasury."
Ravi Kamal, ‎Treasury Manager Operations, Emirates
"The ACT Middle East Annual Summit enables young treasury professionals to meet their peers and provides new expats the opportunity to meet fellow treasury professionals in the region. "
Shabnam Kardar, Treasury Supervisor META at MMC, Oliver Wyman
"This is an excellent opportunity to meet with treasury peers and keep up to date with trends and updates on innovative products. It is also an opportunity to network with banks and suppliers and expand connections beyond the regional reach. "
Halina Bernard, Treasurer, General Motors
"By far the most interactive event that I've ever attended! "
Adnan Khan, Group Treasury Manager, Corporate Finance, AlBawardi Group
"Great opportunity for corporate treasurers to know new developments and meet other treasurers in one place."
Maheswara Rao, Treasury Controller, Corporate Treasury, Emirates Airline
"The ACT Middle East Annual Summit is where you can see how other organisations are tackling similar treasury and finance challenges and provides an opportunity to extensively network with both colleagues, peers and service providers. "
Chris van Dijl, Founder & Managing Director, Cugavadi
"The ACT Middle East Summit was an eye opening experience. From updates on technology and best practice in treasury to excellent networking with industry peers, it covered everything I wanted to hear and more. Definitely a must-attend. "
Sydney Wechuli, Treasury Accountant, Nairobi Securities Exchange
"The ACT Middle East Annual Summit has developed into one of the premier networking events in the Middle East region. It is a regular fixture in our organisation's calendar and not one to miss."
James Adams, Group Treasurer, Chalhoub Group
"I attended this summit mainly because it covered topics not attempted by many other sources and also is one the only ones that offers topics of relevance to treasurers and CFOs. I would strongly recommend ACT seminars for all treasury personnel and also those wanting to pursue training and certification in treasury. "
Nat Vora, CFO, Gulf Energy
"ACT Middle East Annual Summit 2016 was very well organised and planned. It was a great platform to meet industry experts and leaders sharing valuable information, ideas and knowledge. I had lots of fun and made many new friends. "
Ajay Jain, Head of Finance - Group Financial Controller, Almoayyed International Group
"The ACT Summit in Dubai helps us to inform, educate and build strong relationships with corporates in the region. Through collaboration we can share experiences and best practices across our community and help build robust and efficient treasury operations. "
Robert Schneider, Corporate Business EMEA, SWIFT
"The Middle East Annual Summit gave me thorough insights into everything happening in the region and it was the perfect networking opportunity. "
Linda Birta, Treasury Expert - CoE Middle East, ABB
ACT Middle East Annual Conference 2015
"I have attended quite a few ACT conferences in the past, each one was better than the one before, this year was by far the biggest and best. I would recommend these conferences to anyone who wants to expand their knowledge on corporate treasury and keep themselves updated on various treasury related topics, it is an excellent way to network and share ideas."
Girish Viswanathan, Group Treasurer, Al Tayer Group
"The conference was a unique moment to highlight and share how treasury is, and can continue evolving in the region, but also a notable opportunity to network with finance colleagues in a very informal manner."
Frédéric Marret, Group CFO, Webcor Group
"Best treasury experience. Better than 10 trainings."
Omar Hashim, Treasury Manager, Viva Bahrain
"Many praises to the ACT for the relentless effort during the years in promoting the importance of treasury for corporates and the role of the treasurer within the organisation. Knowledge sharing, learning from experience and new technologies are the pillars for the continuous education and development of our profession."
Daniele Vecchi, CFO, Transmed
"As a professional body it is only right that the ACT has a ‎professionally organised and presented conference. That is what attracts the quality of attendees, exhibitors and speakers and why it is the pre-eminent networking event in the region for senior finance professionals".
Gary Slawther, Director, Corporate Advisory Resources FZE
"It was a great experience to attend the ACT conference in Dubai, to obtain up-to-date information and share it with other panel speakers. I appreciate the very outstanding arrangements that you and your team have come up with and the dedicated efforts to bring enjoyable moments to all the delegates there. Thank you again."
Francis Ho, Director - Group Treasury, CLP Holdings
"An excellent opportunity to network with seasoned and new treasury professionals in the Middle East."
Shiban Patel, Senior Treasury Analyst, Aujan Group
"This year's ACT Middle East Annual conference offered great insight into the current treasury issues around the GCC and wider global markets. Top treasury professionals discussed relevant topics during the panel sessions, particularly around the strategic role of the treasurer, moving up the career ladder and managing key external stakeholders. As always it was a good opportunity to network and interact with peers, providing valuable insight into other sectors."
Roshun Tulkens, International Treasury Manager – DVM, Reckitt Benckiser
"Great conference. I learned a lot and got the opportunity to benefit from networking."
Mai Al-Mutair, Treasury Senior Manager, Zain
"The ACT conference is the go-to place for intellectual insights and discussions in the realm of treasury and finance best practices with a relevant focus on the current general macroeconomic sentiments. It's a great opportunity to network with peers, banks and finance professionals."
Princy Royce, Treasury Manager - Middle East, Africa & India, National Oilwell Varco
"The ACT Middle East Annual Conference is an event that brings together corporates, banks and service providers and this year the range of topics and breakaways were extremely useful and relevant to the region and economic times we operate in."
Nick Guest, Chief Financial Officer, GEMS Education
"The ACT Middle East Annual Conference is the appropriate platform for corporate treasurers to share ideas, discuss challenges and potential solutions with peers – at the same time remaining informed on the latest developments in the treasury arena."
Maria Bavelaar, Group Treasurer, Averda
"It was a pleasure to be part of the 2015 ACT conference. The region of the world we operate in has distinct challenges with respect to the economy and regulatory environment. Getting to interact with treasury professionals with extensive experience in the region remains an invaluable experience. Together, we can better understand the issues we face in the region as well as gain insights about potential solutions.
I would like to congratulate ACT for their ongoing efforts in providing a relevant platform for discussing and sharing best practices."
Sonal Gupta, Corporate Treasurer, Alghanim Industries
"The ACT puts on the leading treasurers conference yet again."
Andrew McMichael, Agility
"The conference was very interesting and informative. A lot to take away. I would definitely recommend it to other colleagues. An amazing event with meaningful and insightful discussions and a great chance to network with many individuals from both financial institutions as well as corporates."
Steven Khan, Graduate Manager, Etihad Airways
Venue
Conrad Dubai
Sheikh Zayed Road
United Arab Emirates, Dubai
Mobile app

Speaking opportunities
Various speaking opportunities are available. For more details, please contact:
Jonathan Bates
Live & Digital Content Producer - Global Events
T +44 (0) 20 7847 2580
E jbates@treasurers.org
Sponsorship opportunities
Various sponsorship and exhibition opportunities are available. For more details, please contact:
Denis Murphy
Sponsorship Director
T +44 (0) 20 7847 2581
E dmurphy@treasurers.org

For more information contact: actme@treasurers.org