Key insights from The Business of Treasury 2018 report
17 May 18
Findings of the ACT's sixth annual treasury survey reveal a continuing change in the treasurer's role
How do your peers see their priorities for the year ahead?
How does your treasury team match up against others in terms of size, complexity of demands and contribution to the wider business? And are you more or less frustrated than your fellow treasurers?
In early 2018, the ACT consulted the views of treasurers in the UK, EU, Middle East, North America, Africa and Asia-Pacific for The Business of Treasury 2018 report.
This latest report – the sixth we have published – is the most detailed set of insights yet into treasury's role within global business.
It reveals a continuing, palpable shift in the role of treasurer, from finance specialist and information provider to collaborator in strategic decision-making.
The data show that treasurers are: watchful on financial volatility; keen to expand their teams; and interacting more with internal stakeholders than ever before.
Here are some of the report's highlights:
1. Strategic position
Treasurers are more deeply embedded in their organisations than ever – an important, continuing trend. Some 87% of treasurers believe that treasury now enjoys a strategic position in their organisations.
As one treasurer operating in North America put it: "In the past, we provided great insight, which helped build our credibility and earned us a seat at the table. Now that we are there, we are being consulted on every strategic aspect of the business."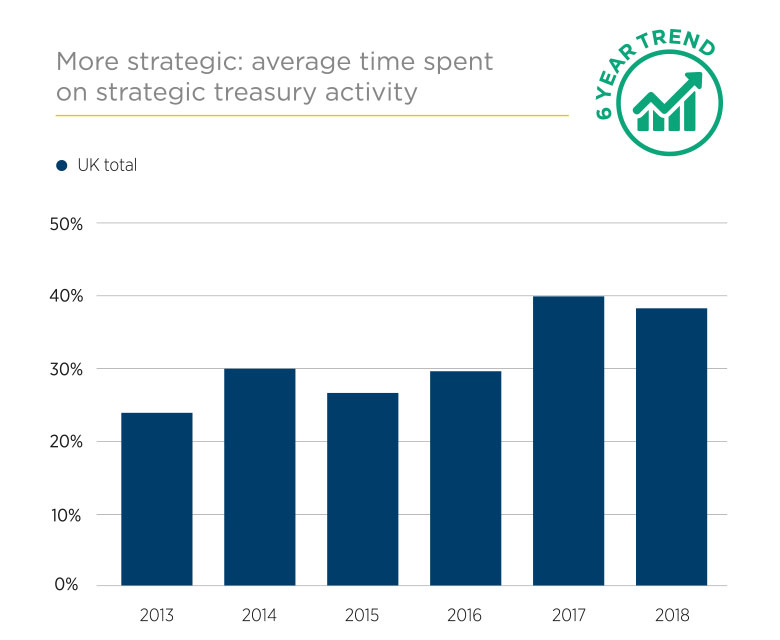 2. Decision-making
Treasury is influencing decision-making in the boardroom, particularly around issues such as capital, liquidity and risk management.
In 2018, 92% of corporate treasuries are preparing information for their boards, and 68% of the time their funding recommendations are accepted.
3. Funding sources
While organisations still mainly rely on conventional funding (bank debt), treasurers are building awareness of different sources, such as private placements and green finance.
The proportion of funding sourced through traditional bank debt has fallen by a third over the past six years, from 37% to around 24%. The gap is made up of a mix of other sources, including asset-based/backed securities, internal working capital and supply chain finance.
4. Gender balance
The gender balance in both operational and leadership treasury roles is moving towards parity. While those leading treasury teams are likely to be male, change is afoot.
Of those respondents in this year's study with 10-19 years' experience, 80% are men; however, the gender gap narrows substantially (57% male versus 43% female) among those with five to nine years' experience.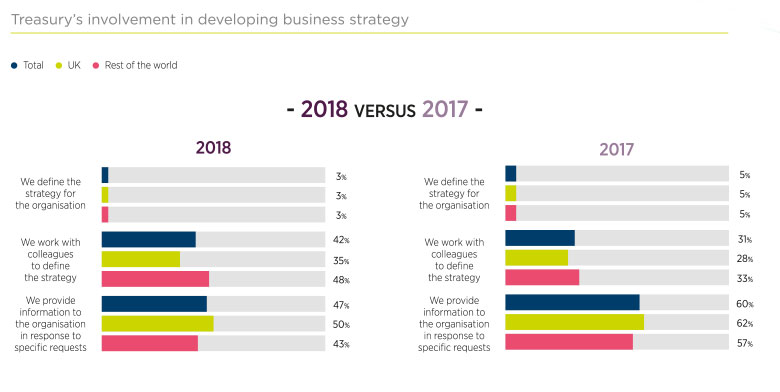 5. Recruitment and development
Around the world, recruitment and development is top of the agenda for treasury teams. In a new question for 2018, we asked about areas of investment.
Encouragingly, recruitment and/or training of in-house teams is the number one area of planned treasury investment in the year ahead (72%), closely followed by technology and automation (66%) and cybersecurity measures (48%).
And, it appears, the ACT remains the gold-standard qualification, sought by more than three-quarters of FTSE companies when looking for staff.
"ACT qualifications demonstrate a level of ability and knowledge that we rely on within the organisation," a UK-based treasurer told us.
6. Capital and liquidity management
Capital and liquidity management remains the number one priority for treasurers.
Interestingly, as the treasurer's role broadens, so, too, do the metrics upon which treasurers' performance is measured: 42% of treasurers are now measured against project delivery; 25% are measured against improvements in overall business profits.
7. External concerns
Today's treasurers' concerns may be tomorrow's boardroom priorities. So, what is keeping treasurers awake at night?
Concerns about cybersecurity (up from 82% to 94% over the year), financial market volatility (up from 67% to 87%) and geopolitical uncertainty (69% to 86%) have all increased sharply over the past year.
However – and this again reflects the central role of many treasurers – treasury is leading or contributing directly to the business's response to all these concerns.
8. Quality of data
Treasurers are concerned about the quality of financial and business data available in their organisations.
In fact, 71% of the survey respondents express concerns about the quality of financial and business data available for strategic planning and decision-making.
Data quality is, of course, a perennial issue, but it's encouraging to see treasurers again taking the lead in improving it.
As one Africa-based treasurer says: "We advise on what is doable and not doable." And those decisions will often hinge on the quality of data supporting them…
Find out more
Read the full Business of Treasury 2018 report here.
This article was taken from the June/July 2018 issue of The Treasurer magazine. For more great insights, log in to view the full issue or sign up for eAffiliate membership