Technical Guidance and Comment
Influencing and informing
As the chartered body for treasury we work hard on a number of fronts – policy submissions and consultations, technical updates, and interactions with regulators and legislators to address issues for treasury practitioners and help improve professional standards in the financial sector.
Use the quick links and search function to access our knowledge base and technical archive available on this site. Further resources are available through the Treasurer's Wiki.
Brexit
The ACT has published a number of articles and guides to help treasurers and their businesses with the practical issues they now face over Brexit.
Codes of Conduct
The ACT has contributed to the development of two important codes of conduct in the financial markets that were launched in April/May 2017.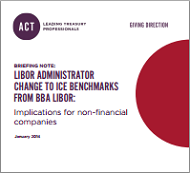 Briefing notes
ACT briefing notes are freely available as a valuable source of guidance and updates on key issues affecting treasury.