Technical Guidance and Comment
Quick links
Influencing and informing
As the chartered professional body for treasury we work hard on a number of fronts – policy submissions and consultations, technical updates, and interactions with regulators and legislators to address issues for treasury practitioners and help improve professional standards in the financial sector.
Use the quick links and search function to access our knowledge base and technical archive available on this site. Further resources are available through the Treasurer's Wiki.
Brexit
The ACT has published a number of articles and guides to help treasurers and their businesses with the practical issues they now face over Brexit.
Codes of Conduct
The ACT has contributed to the development of two important codes of conduct in the financial markets that were launched in April/May 2017.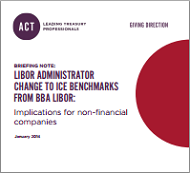 Briefing notes
ACT briefing notes are freely available as a valuable source of guidance and updates on key issues affecting treasury.
Special Interest Groups
ACT Policy & Technical are establishing a number of Special Interest Groups (SIGs) to actively influence decision makers and the corporate finance debate on the topics that matter to treasurers.
Representing the profession and shaping the debate
Open to all ACT members, SIGs will work with the ACT Policy & Technical team to put the perspective of the profession to regulators and decision makers and to inform the profession through briefing notes and practical support.
If you have a particular interest in any of the areas below we'd love to hear from you:
Funding: capital raising, capital structure & pricing
Sources of funds – debt and equity
Bank Recovery and Resolution Directive – the impact of Bail in regulations
Broadening access for SMEs - CMU and the Prospectus Directive
Taxation - impact of Base Erosion and Profit Shifting rules (BEPS)
The impact of regulation on bank pricing - Basel III and MIFID2
Cash management: counterparty risk, pooling & the banking landscape
Counterparty risk management
Bank Structure: ring-fencing/resolution regimes (Vickers/Volker/ Liikanen models)
The evolution of pooling structures
Cash collections and payments solutions
The effect of low interest rates
Financial products/markets: regulation, volatility & product development
EU Financial Transaction Tax (FTT)
Central Clearing, margining and collateral
The impact of volatility
New product development by banks
The commercial context: policy, technology | economics
The impact of a low interest rate environment on growth
Digital disruption: Blockchain; Fintech
Volatility driven by uncertainty: Brexit, EU instability, USA election, China
Pensions, accounting, tax changes
Trust and Identity (KYC, KYB, AML)
HOW CAN YOU HELP?
Keep us informed – as new topics arise they'll be allocated to one of the Special Interest Groups, so let us know what your issues are.
Get involved – if you are interested in joining a Special Interest Group please email the Policy & Technical team at technical@treasurers.org
Policy & Technical Committee
The manifesto explains the aims and scope of the ACT's technical work and the general stance that will be taken by the ACT in formulating and publishing any official views on technical matters.
The work of the policy & technical officers is guided and assisted by the Policy & Technical Committee. Current members of the committee are:
Alison Stevens (Chair), The Phoenix Group
Charles Barlow, Coats
Graham Bond
Tim Boxell, Slaughter and May
Sarah Boyce, ACT
Sarah-Jane Chilver-Stainer, GlaxoSmithKline
Alistair Clark, Tesco
Stuart Gray, National Air Traffic Services
Judith Harris-Jones
Tim Hayter, Bunzl
Edward Hoefling
Kwok Liu, National Grid
Charlotte Morgan, ED & F man Holdings
Stephen Powell, Slaughter and May
Michelle Price, ACT
Stephen Pugh, Adnams
Chris Raftopoulos, PwC
Martyn Smith, Weybourne Partners
Yann Umbricht, PricewaterhouseCoopers
Stanislav Varkalov, Lloyds Bank
Brian Welch, The Usercare Treasury Consultancy