Technical Guidance and Comment
Influencing and Informing
As the chartered body for treasury we work hard on a number of fronts – policy submissions and consultations, technical updates, and interactions with regulators and legislators to address issues for treasury practitioners and help improve professional standards in the financial sector.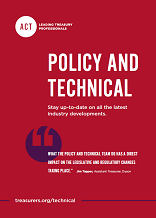 INFLUENCING DECISION MAKERS
We represent the position of the treasury profession to governments, regulators and policy makers and provide the real economy perspective.
INFORMING TREASURERS
We monitor developments in regulation, market evolution, technology and the economy which impact on treasury activity and provide informed and unbiased technical advice.
We publish a range of member-only technical updates, guidance and briefing notes on key issues impacting treasury practice.
Existing members can log-in to view these technical resources in the membership area treasurers.org/mymembership/technical
Find out how you can access these resources and many other benefits and become an ACT member.
Further resources are available through the Treasurer's Wiki.
We are recruiting!
If you are a self-starter who enjoys intellectual challenge and debate and is flexible to adapt to the challenges of the day, we have an exciting opportunity to be part of a team dedicated to embedding the highest standards of professionalism and integrity in the treasury world and acting as its leading advocate. Find out more here.
Quick links
Brexit
The ACT has published a number of articles and guides to help treasurers and their businesses with the practical issues they now face over Brexit.
LIBOR
The ACT has a range of useful resources covering the reform/replacement of LIBOR for ACT members and treasury practitioners.
Technical news
Useful updates and developments for those in the treasury function.
Codes of Conduct
The ACT has contributed to the development of two important codes of conduct in the financial markets that were launched in April/May 2017.
Treasury checklist - 20 issues
Written with business leaders in mind, the 20 issues briefings look at the influence of treasury on financial and business strategy and provide a useful checklist of key treasury questions you should be asking.
Policy submissions and responses