Technical Guidance and Comment
Quick links
As the chartered professional body for treasury we work hard on a number of fronts – policy submissions and consultations, technical updates, and interactions with regulators and legislators to address issues for treasury practitioners and help improve professional standards in the financial sector.
Our knowledge base and technical archive is fully searchable using the search function to the right and further resources are available through the Treasurer's Wiki. An overview of the key technical aspects of treasury is available through the competency framework.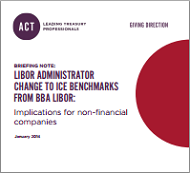 Briefing notes
ACT briefing notes are freely available as a valuable source of guidance and updates on key issues affecting treasury.
Policy & Technical Committee
The manifesto explains the aims and scope of the ACT's technical work and the general stance that will be taken by the ACT in formulating and publishing any official views on technical matters.
The work of the policy & technical officers is guided and assisted by the Policy & Technical Committee. Current members of the committee are:
Charles Barlow, Coats
Tim Boxell, Slaughter and May
Sarah-Jane Chilver-Stainer, GlaxoSmithKline
Alistair Clark, Tesco
Judith Harris-Jones
Tim Hayter, Bunzl
Edward Hoefling, Innovation Consultancy Services
Kwok Liu, National Grid
Charlotte Morgan, ED & F man Holdings
Stephen Powell, Slaughter and May
Stephen Pugh, Adnams
Chris Raftopoulos, PricewaterhouseCoopers
Graham Robinson, PwC
Alison Stevens (Chair), Phoenix Group
Martyn Smith, Dyson
Yann Umbricht, PricewaterhouseCoopers
Stanislav Varkalov, Lloyds Bank

Manifesto

Technical help

Technical queries service
The ACT offers a free service to ACT members and students which can help you with technical queries you may have. You will have log on to the website to access this service - if you have forgotten your membership log on please email membership@treasurers.org
Treasury Services Directory
Need to find a partner or service supplier for a treasury product? Try our directory, currently listing over 400 businesses which offer services to the profession.
Treasury Forum
Read the Treasury Forum for up-to-date news and commentary on the issues affecting the world of treasury